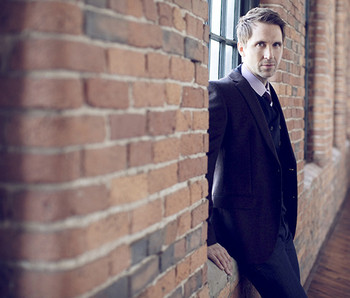 Early autumn is the best time of the year to be in New York City. The air is crisp and clear, the streets are humming with activity, and romantic possibilities are everywhere. If you're lucky enough to experience this for yourself, you know exactly what we're talking about. If you're too far out of town to catch the magic, Scott Gray's gorgeous video for "Raincoats" might be the next best thing. In the clip, Gray searches for love and adventure on a beautiful day in New York. He doesn't have to look far. It's all around him.
And sometimes it takes an out-of-towner to truly appreciate the city. Gray isn't a New York artist – like many true believers in the art of musical storytelling, he makes his home in Nashville, Tennessee. But his jazz-pop songs, all of which emphasize narrative, often echo New York voices, including confessional singers like Leonard Cohen, Laura Nyro, Billy Joel, and Norah Jones. He draws from older Gothamite sources too: musical theater, film soundtracks, the smoky, after-hours sound of the speakeasy.
All of that is present on Raincoats & Other Short Stories, a warm, engrossing set that showcases his skills – he's an excellent tunesmith, arranger, and lyricist, and he's an empathetic and instantly likable singer, too. The six songs on Raincoats are thoughtful and grown-up in their romantic outlook (as all short stories should be), but they're also as splashy, catchy, and melodically sophisticated as any modern pop. "Raincoats" is a timeless tale of flirtation, seduction, and gratification deferred, but it's also grounded in the present by deftly-chosen specifics – a Burberry coat, a Christian Dior dress, the fall of rain outside an apartment window. Gray decorates the track with bouncy piano and high chimes, and bathes his chorus in radiant brass.