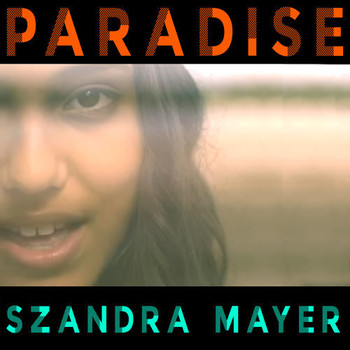 Szandra Mayer is a gifted young singer, model, and actress with a new single, "Paradise" which is her second release to date. Mayer is no ordinary talent, she is only 11 years old and her music is very mature for her age, so it fits into contemporary pop without any question. Born in Los Angeles and now living in Florida, she is Hungarian and Spanish, and speaks both languages fluently. That's a lot for her age, which goes to show a bright future for her writing, recording and performance work. You can hear the directional flow of the music, especially after her first single "Up In The Clouds."
"Paradise" is slightly more complex than her previous single, so it's a big step in a higher direction for it, with her voice clearly sounding a notch older. In-fact it's practically a new sound compared to it, and that only helps all-the more, making "Paradise" the better track in that sense, which is usually how things progress as an artist goes. It's a grand effort, although both tracks are substantially good tunes. She just made a very conscious effort to up the game on this new cut. It has more of an island feel to it, hence the title, and it stands up as a solid number no matter how you describe it.
The promo video is totally representative of the atmosphere to help define the title and keep to the positive mood factor on what is honestly a track with a lot of hit potential. The beats pop like any other of the same pop-structured magnitude in today's landscape, but the difference is all her own, and a uniquely original delivery is the result, especially when it comes to her spot-on vocals. This is a radio-friendly track in every sense of the word, as it grabs you from beginning to end and doesn't let go of your attention. Make no mistake this is no reggae music, but it does have an islandic flavor applied to the pop sensibility.
It's a very clever blend of styles without losing the overall aim to the masses, and you don't get that without putting a lot of care into your craft, which is another impressive feat about Mayer and this song.  But the blend isn't exactly seamless, it's more of a subsequence of different things, including some cool guitar and keyboard playing throughout as it stops and goes with a few breaks to separate the moods. And if you watch the video, you gate to see her with face painting and cool lighting which adds all-the more to the song if you're into videos, which seem to be trending upward lately.
Mayer is a star in the making, because she is multi-talented to keep herself busy with modeling and acting as well as music, which is all detailed at her website. This artist is climbing more than just musical mountains, she comes with talent to spare in every department, from singing/songwriting to visual qualities not found often enough across the board at any age or stage in the industry.
"Szandra Mayer's music has been heard all over the world due to the radio plugging services offered by Musik Radio Promotions. Learn more – HTTPS://musikandfilm.com
Gwen Waggoner