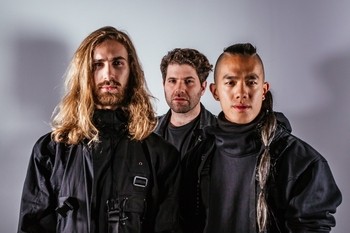 Having come off the back of blowing away crowds at huge festivals including Lollapalooza, EDC Las Vegas, Electric Forest and HARD Summer as well as brilliant reviews from the likes of Noiseprn and EDM.com, Slumberjack have now returned with new music!
Slumberjack's previous collaborations with likes of Alison Wonderland, Vera Blue and Daniel Johns (Silverchair) have seen them gain over 40 million streams on Spotify alone and establish themselves as a powerhouse of Aussie EDM like Flume before them. 'Daggers' (released via Monstercat) is a collaboration with the supremely talented writer and performer Machine Age, and is the first single off Slumberjack's highly anticipated Sarawak EP.
Bringing together two of Australia's biggest musical talents, Daggers is an extraordinary fusion of cutting-edge electronic beats with urgent crunching drops and jagged gnarled guitars. EDM production titans Slumberjack are already huge successes in their home country of Australia but this union with one-man rock/IDM phenomenon Machine Age sees them take on the rest of the planet with a sound that is both vast and intricate.