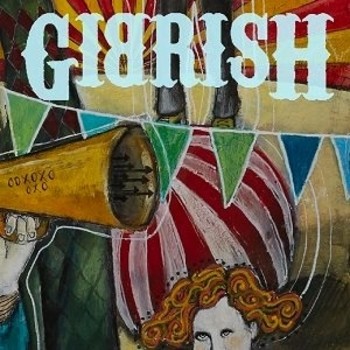 The Swedish Sensations known as Gibrish are back with two, fresh new cuts that are simply appetizing to the musical palette. I was first introduced to Gibrish back in 2014 and my last article on the band was in 2016, (https://skopemag.com/2016/08/25/gibrish-gangster-tango). The group has evolved and grown tremendously since then and adds even more depth to their music on the recent singles.
Gibrish meaning words with no meaning and just random letters in a sequence may have summed up Gibrish's wild & zany style back then but not the case with "Chaufför (Driver)" & "Bara en krona (Just one crown)". These songs exhibit an incredible amount of meaning and emotion and hold a special place for lead singer/songwriter Christer Suneson. And not so much random letters in a sequence here but more so a specific order and placement of lyrics throughout the material. These two songs are actually covers but not your typical cover versions by any means because Gibrish may have borrowed the structures and ideas behind the tunes, but Gibrish adds its own creative twist. In other words, the band Gibrified the original tracks by coming up with creative & catchy wording and musical accompaniment while still staying true to the setup of the originals.
The first track is titled "Chaufför" in Swedish but in English means "Driver" and this is taken from a classic Bob Dylan number titled "Señor (Tales of Yankee Power)". Just as the masterful poet, Dylan, penned this original tale, Christer Suneson also gets in touch with his poetic side on "Chaufför". You will hear smoky & raspy vocals from Suneson and just a musically rich texture from beginning to end. The listener will get a deep-sensed message as Christer appears to be singing from the heart here. I can honestly say Christer sang each syllable with extreme precision and with such poise, style and grace. I could tell a lot of well-organized thought went into the recreating of Dylan's "Señor (Tales of Yankee Power)", but I can say wholeheartedly that Christer/Gibrish nailed it and did Bob Dylan and his song major justice. I'd like to provide you with the last two verses from both the original and Gibrish version so that you can be the judge:
"Señor (Tales of Yankee Power)"
"Señor, señor You know their hearts is as hard as leather Well, give me a minute, let me get it together Just gotta pick myself up off the floor I'm ready when you are, señor
Señor, señor Let's overturn these tables Disconnect these cables This place don't make sense to me no more Can you tell me what we're waiting for, señor?"
Bob Dylan
"Chaufför (Driver)"
Driver, driver – Our hearts are like leather.
We stand naked without clothes.
Wounded and cold as dark outside.
I'm ready when you are driver.
Driver, driver – Press the meter to the bottom.
Burn the huts and the castles.
What does it matter when everything must die?
What's left to wait for – driver?"
Christer Suneson
So, as you can see there are major comparisons between the two verses but also vast differences in that Christer chose to use some different phrasing. It's obvious that great attention to detail was applied here as Christer meticulously phrased each line as so and Gibrified the damn thing!
The next cover track is called "Bara en krona" meaning "Just one crown" and comes from a song written by Gillian Howard Welch and David Todd Rawlings titled "One More Dollar". I really enjoyed listening to this number because it has such an inviting & vibrant sound that sucks you right from start to finish. There is also a very interesting dynamic here showcasing male/female vocals blending together wonderfully. You get sweet 'n' steady notes mixed with Christer's bolder, lower register that comes across as a perfectly blended & balanced cup of coffee. "Bara en krona" is strong and releases an intoxicating aroma where the audience will just be in 7th Heaven. This set proves that this is one dynamic duo that aims to take the world by storm One Dollar at a time. Again, Gibrish goes above & beyond to make the original artists/music stand out while also staying true to the original style & composition. I'd like to include the intros from both tracks so that you can closely examine the lyrics from Welch, Rawlings & Suneson to get a better sense of perception through the lens of the artist's eyes & minds:
"Bara en krona (Just One Crown)"
It was long time – I left my home.
With a dream – about a life in the northern.
Remember my green valley – I'm wearing the memory.
How the wind sang all beautiful words.
Gibrish
"One More Dollar"
A long time ago I left my home For a job in the fruit trees
But I miss those hills with the windy pines Their song seemed to suit me
David Todd Rawlings / Gillian Howard Welch
I know that Gibrish has many layers and has gone through many transformations over the years, but the group has such a distinct richness to their music now. I hear growth, I hear passion, I hear Gibrish at their finest on the recent singles. And I can't state enough that I love the fact that Gibrish didn't just produce ordinary, average covers but went outside the box a bit and put their authentic stamp on the pieces. It's safe to say that Gibrish is well on their way to abundant success and have proven to be Swedish Superstars. Gibrish is working on new material as we speak and plans to perform various gigs in and around their homeland while also trying to make a Big splash here in America. In the meantime, please enjoy a live set from 2016, so that you can see what all this Gibrish is about; Get Gibrified!
By Jimmy Rae + (jrae2@att.net)