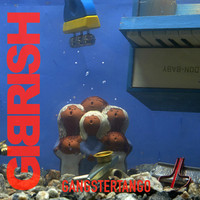 Right away when you hear the band name and album title you're probably thinking what the hell is this all about and gets you intrigued right? Well…that exact thing happened to me back in 2014 when I interviewed this Swedish-based group for the first time and got a real good sense of them after that,
(http://skopemag.com/2014/08/04/jimmy-rae-wondering-what-all-this-gibrish-is-about). What I found out is that Gibrish stood for everything outside the box and as far away from mainstream as you could be. Gibrish meaning words with no meaning and just random letters in a sequence sums up the unorthodox and wildly unique style of Gibrish the band to a T. You'll get so many elements hitting you at once that it will make your damn head spin! On 'Gangster Tango' I heard blues, alternative, rock, folk, pop, art rock, progressive folk-rock, acoustic guitars, accordions and throw in theatrics and humor and you have yourself one wild ride! Buckle up and prepare your ears for one, highly inventive and one-of-a-kind listen.
The group is currently made up of five members: Christer Suneson on lead vocals, Klas Ullerstam on keys, Olle Melkerhed on bass, Erik Gunnarsson on drums/percussion and Niklas Karlsson on guitar. The record starts up with a short but sweet bluesy instrumental on "Blues for Bobby Fischer" and then have your funny bone tickled on track two, "Stay Away From That Juice". You won't want to stay away from this number since it includes pure humor and energetic juice for your soul. I couldn't help but think of Jack Black's amusing and witty vocal style with his band Tenacious D as I listened to this song. "Stay Away From That Juice" is the Swedish version of Tenacious D and it's one damn good time in typical Gibrish fashion. On track three, "Stuff I Am Packing", you are questioning everything and looking over your shoulder as Gibrish is on the prowl and playing tricks with your mind, thoughts and sense of hearing. Add some quirk to your step and twerk to some good 'ol "Gangster Tango" on the song titled "Dahlia Meets Bird Petite". On this number one will hear catchy melodies and a slowed-town tempo to make up one ridiculously original and zany composition. On track five, "Cotards Syndrom", get ready for a peculiar and eerie tone and then jump up and get down to the high-energy track "Fel fot, fel sko!" (https://www.youtube.com/watch?v=O8rHKm5Li-o). I can't help but move feverishly to the pace of this song, "Fel fot, fel sko!", as this is one of my favorite tracks on the album due to this fun-filled, dance element. On "Marabo's Morningwalk", take in the fresh, airy guitar riff and pleasant melody that hits you like a finely-tuned breeze. On the next installment, "Visions of Zero", one will be looking to crack the case and discover the secret behind this mysterious place. On track nine, "Krumsprang I Pottang", you'll experience a short and lively accordion jam session that will satisfy your soul and leave you feeling good. Next up we have "Talk Gibrish" that is just fun-filled times in Gibrish Land where you will dance a jig and lose your wig to this big wave of sound. On track 11, "Turn To Dust", I just love the scandalous, rockin' atmosphere as Gibrish is kickin' up dust and raising some good old fashioned hell! On song 12, "God Here's To You", the listener will be equipped with a slowed-down tempo and story-telling mode that is musically, lyrically and vocally rich where everything was gelling together perfectly. I thoroughly enjoyed the group harmonizing on this number and honestly would want to hear more of this from Gibrish as they steal the show with their chops on "God Here's To You". Gibrish closes the set with bluesy guitar that is absolute dynamite and music to my ears.
These Swedish sensations from Sundsvall are kicking it into high gear with the release of their second, full-length album 'Gangster Tango'. Gibrish is not holding back at all by bringing you the most diverse mix of music that will knock your socks off. Gibrish is testing your hearing and pushing the limits on this new record where nothing is off the table and anything goes. You will get a one-of-a-kind listening experience like no other where your ears will be definitely getting an intense workout. Some listeners may not get it at first but I do feel that 'Gangster Tango' requires at least a few listens to fully understand and appreciate the magic and distinct art form that Gibrish has created here. A vast musical spectrum with deep storylines and subtle humor adds up to a Gibrish extravaganza full of wonder & surprise. Expect the unexpected on 'Gangster Tango' as Gibrish proves that ordinary & average aren't in the equation. Prepare to get Gibrified!
The band has been keeping busy over the summer by playing many gigs near and far including a premier alternative/world/folk music festival in Sweden called Urkult, which ran three days from August 4-6 (http://urkult.se/). If you get a chance to see Gibrish live then I say go for it because I can bet that it will be like nothing else you've ever witnessed before in your life. Now, go get a dose of Gibrish and stumble along to the unconventional steps, twists & turns of 'Gangster Tango'!
https://www.youtube.com/watch?v=J-DAw9nMkfw
4 Skopes
By Jimmy Rae + (jrae2@att.net)