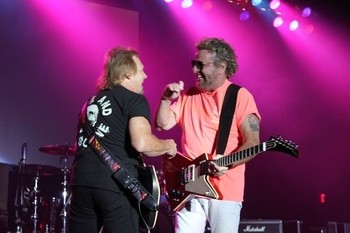 The Circle is Sammy's new circle of friends. Sammy naturally handles the lead vocals and shares rhythm and lead guitar. He's joined by Van Halen/Chickenfoot bandmate Michael Anthony on bass, Jason Bonham (needs no introduction) on drums, and Vic Johnson (BusBoys & Waboritas) on guitar. The keyboards were as expected, programmed, ala Van Halen.
It's just a bunch of guys with instruments who need a place to party, led by a guy who doesn't want to grow up, and why should he? The Red Rocker explained it all, verbally, and physically. The 71 year old was his usual animated and interactive self, and definitely has that "Dick Clark" ageless thing going on. The playlist for the packed house included some of the greatest hits of the Sammy eras in Van Halen, Montrose, Chickenfoot, Sammy (solo of course), and Led Zeppelin.
Mike is a much underrated singer, but in addition to adding background vocals, he took over leads in many of the songs. Jason sported a red acrylic DW drum set reminiscent of his dad's Vistalites. He took the mike and graciously and elaborately began bestowing the virtues of someone that he looked up to, and then he thanked Michael. I saw it coming!
There weren't any solos as in previous shows, and no encore, but the guys rocked for almost two hours. Sammy being Sammy, interacted with the crowd drinking, signing, wearing banners, and posing. Ever the businessman, he hawked his Beach Rum and his Santo Mas Mezquila, even substituting Mas Mezquila for Tequila in the song Mas Tequila.
Sammy's three-day birthday bash in Cabo (at his Cabo Wabo Cantina) evidently lasted a bit longer, explaining this let them get practiced up, as they "Never rehearse, never have, and never will!". One of his sons joined him singing on Eagles Fly. Standouts were Rock & Roll, When The Levee Breaks, Finish What You Started, Right Now, and Why Can't This Be Love. Particularly missed were Dreams, and Jason pounding out Moby Dick.
Catch Sammy's Funhouse when it comes around. What can be better than a fun night out partying with the ageless Red One?
By R.M. Engelman