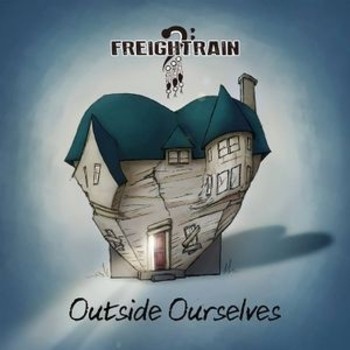 URL: https://freightrainband.com/
Outside Ourselves, a nine song studio effort from Robert "Freightrain" Parker and his band, solidifies Parker's status as one of the pre-eminent figures in American roots music. The band has one previous release under their belt, Freightrain Live, illustrating the band's kick ass stage presentation, but Outside Ourselves spotlights Parker's songwriting and the unit's talents in a studio setting. "Elijah" kicks off the release with an extended instrumental brimming over with elegance, soul, and sure-footed melodic grace that never sounds forced. There's a seamless weave of the band's instrumental pieces and the overall picture sends Outside Ourselves off with supreme stylishness. One of the deepest grooves on the release comes with the second song "Better Man" and the musicians establish a fluid, tightly rhythmic foundation for the track. The first vocal included on the album is a stunner, as well, and speaks to listener's hearts and heads alike without any dross or unnecessary clutter.
The album's title track is one of its most impressive musical statements and Parker complements it well with great vocals and songwriting. "Outside Ourselves" reflects, as well, an interesting balance Parker achieves with the album – there's a lot of instrumental showcasing throughout the release, never self indulgent, but the songwriting nonetheless maintains a laser focus. The band shifts into a distinctly funkier gear with "Don't Stop the Music" and the ear-catching rhythms percolating through the music never gets too edgy and brings a soulful mood to bear that makes for a truly unique effort. Parker's singing brims over with joy, but his performance is every bit as stylish as the musical backing.
"Dark Season Blues" has a wiry traditional attack without ever becoming too reliant on longstanding blues tropes and it brings into focus another of Parker and the band's crucial merits. They may stake out familiar territory in terms of both sound and subject matter, but Parker proves adept at pouring old wine into new bottles without ever calling attention to the fact. You may know where the band and songwriting is going sometimes, but the joy comes hearing how skillfully they get there. The fiery "I Still Believe" pops along at a strong pace with potent lead guitar dueling with the organ throughout. The vocals are largely Parker, but he makes great use of backing vocals for this number and they pair up nicely with the guitar playing.
The band revisits "Elijah" for the album's finale and the instrumental makes for a fitting conclusion to a gritty, yet blazingly intelligent musical work. The song reappears in abbreviated form with this track, but retains all the effectiveness of the album's first performance. Robert "Freightrain" Parker and his musical collaborators hit their stride with this album and produce a memorable release that showcases both their live firepower as well as their compositional skill. Outside Ourselves is deceptively ambitious; it covers a lot of stylistic and lyrical ground with an approach that manages to be virtuosic while still making a strong emotional connection with its listeners. If you love roots music recast in a modern context, you'll be over the moon about Robert "Freightrain" Parker's music and songs.
CD BABY: https://store.cdbaby.com/cd/freightrain
Gwen Waggoner