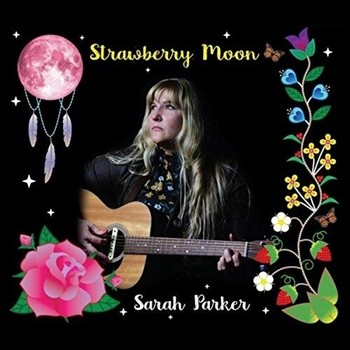 URL: https://sarahparkermusic.com/
Produced and arranged by her husband and award winning blues musician Robert "Freight Train" Parker, Sarah Parker's debut collection Strawberry Moon establishes this Florida native as a major singing and songwriting force in the Americana scene. Her classic country influences are strong over the course of the album's fourteen cuts, but deeming her an exclusively country performer veers far off the mark. It is inevitable she might glean some of her husband's bluesy traits for her own songwriting and she has, but they are subsumed into her own artistic consciousness and helps make Strawberry Moon a fuller, richer listening experience. Some might come away from this album thinking it's a bit bloated, but such opinions miss the mark – this is a creative outpouring, but Parker, her husband, and other musical collaborators invest the songwriting and performances with a level of focus that makes fourteen songs go by quick, but they are sure to make a deep impact on her audience.
The languid opening of "Sugar Town" unwinds with a sprinkling of piano lines adding color to the music and brief, lyrical pedal steel phrases acting as a sort of counterpoint to Parker's voice. The build towards the song's chorus has a gentle swell that pays off nicely when the chorus hits and the most telling portion of this moment lies in Parker's gift for carefully modulating the rising intensity. "29 South" picks up the tempo a bit and relies in some beautifully rolling piano for an extra melodic lift, but it's another pristine pedal steel performance bringing a lyrical quality to this song. The organ we heard on the album's opener returns with "You Can't Tell a Heart" and the pedal steel takes a break in favor of orchestral minded electric guitar concerned more with bringing tasteful fills into the mix rather than instrumental showcases.
Mandolin comes into play with the album's fifth track "I Got to Wander" and her sharp lyrics serve this song well; there's definitely a hint of the footloose and fancy free attitude simply conveyed by the title. The album's title song and second longest cut, "Strawberry Moon", falls back on a slower, more deliberate tempo and certainly exhibits tremendous patience developing the song for listeners. Mandolin is present once again and running throughout the entirety of the tune, but the truly revelatory components of the performance is Parker's deeply felt vocal and the carefully crafted lyrics that avoid even a single extraneous syllable.
"Talk in This Town" has much of the classic country sound defining the bulk of Parker's debut, but there's a more forceful commercial edge distinguishing this tune than we hear with the aforementioned cuts. Much of this is attributable to the song's solid structure and the rise of assertive drumming near the song's chorus, but it's lyrically accessible and provides listeners with a familiar and involving narrative. The album's longest number, "Lonely Highway", features dramatic musical turns and the lyrics turn on a number of key attention-grabbing lines, but the return of organ to the mix adds a spectral presence wholly appropriate for a song titled like this.
Concluding Strawberry Moon with the short "Straight from the Bottle" seems like a slightly incongruous move, but it's best to hear this song and where it comes as a reaffirmation of her commitment to the classic country/Americana sound rather than some epic closing statement. It's relaxed, confident, and the bluesy electric guitar flourishes provide a sharp contrast with the fiddle playing. Sarah Parker has managed to write and record an album that embraces tradition, yet sounds thoroughly modern, but Strawberry Moon has even more. Many of the songs reflect Parker's talents as a storyteller and her gift for invoking strong, believable characters through her music. It's an all-around impressive debut.
AMAZON: https://www.amazon.com/Strawberry-Moon-Sarah-Parker/dp/B07DTH6J2P
Gwen Waggoner