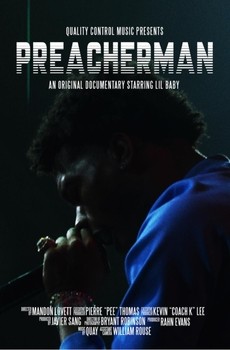 Quality Control presents PREACHERMAN, an original documentary starring Lil Baby. It is directed by Mandon Lovett and executive-produced by Pierre "Pee" Thomas and Kevin "Coach K" Lee.
PREACHERMAN – is more than a music documentary, it's also a narrative of the streets of Oakland City in SW Atlanta. Told through candid interviews about Lil Baby's life – accounts that might seem depressing if they weren't told with such a matter-of-fact shrug of reality. Starting with rolling dice at age six to dropping out, possession, selling, years of incarceration before he was even out of his teens, Lil Baby changed up his hustle to rapping his way to #3 on the Billboard 200 and #1 on the Mainstream R&B/Hip-Hop Airplay Chart and playing huge concerts around the world to kids like himself.
PREACHERMAN is told through his mother, Lil Baby's Quality Control Music CEO and mentor and Pierre "Pee" Thomas (who himself has been to prison 3 times and jail 10 times), his producer, friends and Lil Baby himself.
"The streets. I never seen anybody beat'em. Many before you, many after you. That's the most challenging part to get him to understand. Streets come and go. They leave so much tragedy behind." – Lil Baby's mother