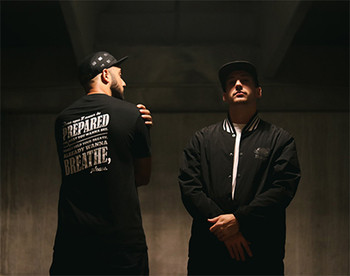 Buck-N-Nice have shattered the mold embodied by many artists, and that's how it's going to stay.
The pair — wordsmith rapper SawBuck and deft beatmaster DJ So Nice — have released a new video for "EMAG", the taster title track off the pair's sophomore release — available now.
Their recipe is working and the pair's secret sauce is sought after. 2014's Us Versus Them enjoyed vast critical acclaim and EMAG is topping hip-hop college and community radio charts in Canada and U.S. (Earshot! And NACC), not to mention caught the ear of legends such as DJ Premier, DJ Eclipse and DJ Riz on Sirius XM. "EMAG" the single is in with early traction from Cheers to the Vikings, Tinnitist, Last Day Deaf, comeherefloyd, The Word is Bond, and more.
The new LP further steadies the duo's course in conscious hip hop, eschewing formulaic trends and dime-a-dozen anthems in favour of intellectually focused tracks.