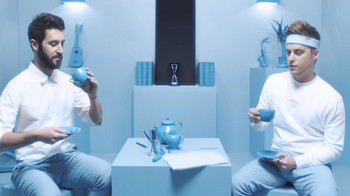 Highly acclaimed DJ & producer Klingande and singer/songwriter Broken Back have delivered the official music video for their new single, 'Wonders'.
The music video is based around the concept of time and how we should enjoy each moment in life. "The song talks about the fact that when I was a child I realized my own mortality and it scared me… This song is about enjoying life while we have it,", says Broken Back.
The video begins with Klingande and Broken Back frozen in time, before they're immersed in an emporium of fantasy, weaving their way through their brand-new dimension.
Discovering Broken Back on YouTube in 2014, Klingande first invited the singer/songwriter to his home studio in Lille, where they made their debut collaboration 'RIVA'. The track has amassed over 80 million cumulated views on all platforms since its release. An eagerly anticipated reunion between both minds, 'Wonders' cements Broken Back's reputation of a true showman, having performed over 250 concerts in the past two years, with his first self-titled album now certified Gold.