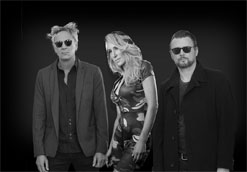 Starting in the late 80s, Delerium began as a side project of Bill Leeb and Michael Balch of the popular electro-industrial group Front Line Assembly. Balch left the group after the release of their first album Faces, Form & Illusions in 1989; Rhys Fulber joined the group soon after. They've managed to blend everything from dark trance to electro-pop, and since the release of Semantic Spaces in 1994, have teamed up with notable guest vocalists to release classics including "Silence" featuring Sarah McLachlan (one of the most well-known trance songs of all time) and "Terra Firma" ft. Aude. Most recently, "Stay" was featured on their album Mythologie, released on Philadelphia label Metropolis Records in 2016.
JES is a one-woman powerhouse in a castle of crowns, and she's teamed up with Delerium for the collaborative track "Stay". This New York artist is a singer, songwriter, and EDM performer, as well as a true global sensation known for her message of positivity. Although JES is deep-rooted in the EDM scene, she also has an appreciation for rock and roll as she breaks boundaries along with the charts. She calls back the sound of the early 2000s in a time where club music was slowly making its way out of the basement and into a worldwide cultural phenomenon. At the head of the movement, she carries the flag with light as she calls upon her greater power with her mission: "I want my music to be a refuge for the heart, a place where you can feel good and be truly free." After releasing music with her band Motorcycle, JES released her first solo album Disconnect in 2007. In 2015, she decided to use her platform to launch her own label Intonenation Records.
In a more stripped-down style, JES lets the viewer into her mind with "Stay" as Delerium lead her into the world of their dark electronica production. Directed by Olaf Guerrero, the video is set over a black backdrop contrasted by the light of hope within JES's soul for her lover to return. An hourglass symbolizing time is visible on screen as her natural hourglass figure is draped in cloth. As her ballad to her lover continues on, synthesizers at the pre-chorus give us her classic electric feel to bring her broken heart back to life. Her forest contains a bright lotus flower blossoming out of the darkness as divine beauty and purity are represented respectfully. As the video closes she lays her head down and waits for her prince to return but ultimately, she puts her trust in the universe to decide her fate.