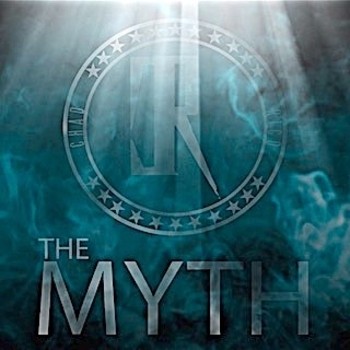 Every now and then, a story is told. Sometimes that story is told through someone else's eyes or through the images that may be cast: the end result will be a lasting memory. When a sound is heard, it remains within the ears and travels to the brain for interpretation. Sometimes those sounds could be heard as commands asking for something to be done, while others could be simply gestures of good tidings that leave the listener feeling happy and excited! In all of these moments, the story is what is being told and the very story being told currently is the one written by Hip Hop Artist, Chad Rico with his new album, 'Myth.'
What is a myth? According to the Merriam-Webster online dictionary, a "myth" is considered as a traditional story, especially one concerning the early history of a people or explaining some natural or social phenomenon. Who knows just what was trying to be explained here in the title, HOWEVER, after viewing the movements that Chad Rico has participated in, one would ask when he has the time to record as he clearly showcases his love for travel, Now Visiting 35 Countries?! Chad Rico is a recording artist but more importantly, a "visionary" as he specializes in placing his time between the many operations that he supports. Being a business owner is a tedious job, but Chad Rico is not showcasing any fear! This talent has some serious music on his hands!
Digging into Chad Rico's new album, Myth, is a true treat. In all, 7 newly remastered tracks spotlight various topics, but all in all, there is a unified blend of sounds, mixed beats, and thought-provoking lyrics. Chad offers up something for everyone and at first, listen he distinctly captures a great usage of the famous autotune! At first listen, Chad Rico has the makings of T-Payne, T.I., Rick Ross, Migos, Future, and Kanye West and as they all are some of Hip Hop's finest beatmaker and culture breakers, Chad Rico is hanging tough with the best. The album, 'Myth,' has a mixed vibe as it has the millennial edge and touch of true first-class hip-hop, but also spins in a little fun! Everyone knows that fun spells out a great day! This music is something that can be listened to easily and understood! Great Stuff!
The album opens with the tracks, "Jet and Night in Barcelona." "Jet" has this true dirty south hardcore beat like an 8Ball and MJG. Obviously, the lyrics showcase that he is jet-setting somewhere and trying to figure out how much cash to put in the jet while he and his squad travel in great style! "Night in Barcelona," is another great masterpiece! Another touchdown occurs, but this time in Barcelona where a complete adventure is revealed. The uptempo, catchy song sets up the mind for an all-out night in Barcelona where are things MUST GO!
The next tracks from the album are "Big Numbers, New Level, and Options." "Big Numbers," is just that: Chad Rico speaking about his money! While some would think that would and could be a brag-based song, he is speaking knowledge about how he is making his life a great one and not cutting the cost to live to the fullest. While many can't seem to place themselves on the right track to get to where Chad Rico is already stationed, songs like these are very important to persuade the younger generations to follow their dreams and chase whatever makes them feel great and be confident! Great Stuff. "New Level," starts off with a very Cuban-Spanish guitar that sends chills throughout the skin! What has happened on this song is just what seems to be the motto for Chad Rico—he's reached a new level! He starts a discussion possibly with that love interest who doesn't seem to have the same respect, grind, or actions as he and in all actuality, he probably made the right decision by making sure that he placed his thoughts and ideas in the new level versus the old love interest! Lastly, "Options" is that song that really pushes the buttons of those that are trying to head somewhere in their lives. He simply places out his options to travel, support business, and to be supported and that is something that everyone needs to have in their personal space!
Audio Listening Link – https://malekarzu192.wixsite.com/chadricoep
The last two tracks on the album, "Click Click and Workin," end a true album off in style. "Click Click," is the song that cuts off negativity and negative people. Chad Rico lets people know that he is not the one that will entertain negative people and has also let it be known that he will not tolerate the wrong crowd around him as positive vibes are what is always necessary! Lastly, "Workin," is that song that stands out because it talks about the style of work that is being put in. A very solemn piano truly sets off the message that Chad Rico wants to always be that guy that has comfortable surroundings. A great ending!
A live performance will be full of energy and a lot of dancing! It is always refreshing to find new talent, especially when it is relatable! All in all, it would be very interesting to see a live performance from Chad Rico as I am sure that plenty of international flags will be out in support just because he has probably been to every major place that his music has also traveled! I highly recommend this project and think you should take a listen to it!
https://www.goldandgemsrecords.com/
Rating 8 / 10
K.Tibbs