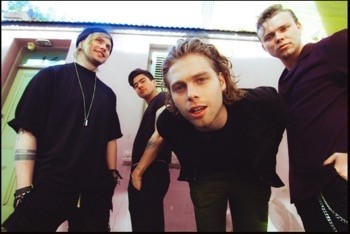 Today, 5 Seconds of Summer (5SOS) premiere the video for "Valentine" — the new track from their chart-topping new album Youngblood, out now on Capitol Records. The eye-catching video, which features the band members' largely disembodied heads singing the lyrics against a black backdrop, interspersed with images of balloons, cherry pie, and skeletons, was directed by 5SOS' Ashton Irwin and photographer, Andy DeLuca (Kendrick Lamar, Wolf Alice).
Says Irwin, "Collaboration has always been one of the key most important things about 5 Seconds Of Summer since day one and co-directing the video with Andy was an incredible and very fluid experience. There are a few things we wanted to capture; the androgyny and the feminine element of the way Luke performs as well as the dark romance of the song. This video is us taking something into our own hands and attempting to be a part of every single detail of what we create. We hope you enjoy it and I'm looking forward to making many more."
5SOS are currently on the road for their North American Meet You There Tour — a 25-city headline outing that will conclude with a show at Los Angeles' Greek Theatre on October 12th.
Photo credit: Andy DeLuca