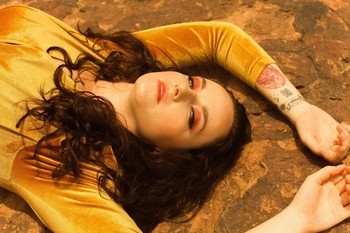 Emerging alt-pop artist Charlee Remitz shares fiery new single "My Worst" from her upcoming sophomore album Sad Girl Music. Leading with punchy synths and wicked lyricism, "My Worst" is the perfect post-breakup pop anthem to destroy your hotel room to. Singing "you've got my heart, so I'm coming for yours," Charlee's songwriting goes from helplessly in love to don't mess with me at the flip of a switch. Produced by Zach Milo, the track is fierce, choppy, and full of lush electronic production that perfectly matches Charlee's pointed songwriting.
This isn't the first time we've heard from Charlee Remitz this summer. On July 13th, the Los Angeles based artist released "To Tell You The Truth," a sparkly electro-pop tune that gushes fresh love and total confusion. The single received praise from Impose Magazine and EDMSauce, who noted Charlee's, "emotional and potent" songwriting skills, and has been steadily climbing the Spotify ranks with *Insert Number* streams. "To Tell You The Truth" is the kitten to "My Worst"'s devil, but both tracks show off Charlee's undeniable knack for slick melodies, clear storytelling, and ear for crafty production. "To Tell You The Truth" has 5,600 streams so far!
All of these qualities are put on full display throughout Charlee Remitz's upcoming album Sad Girl Music. Filled with sparkly, electro-pop production, the 23 year old, Montana born singer-songwriter takes listeners through a whirlwind of a relationship. From realizing her first affections to acknowledging her own "Devilish" charm, fans are transported to an alternate reality of long desert drives and Hollywood Halloween parties.