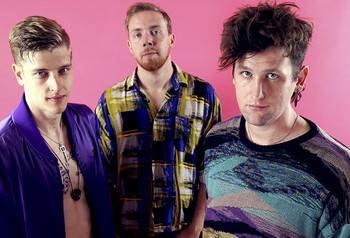 Welcome to Water District, where you will find authentic indie pop rock with a modern emo spin. This exuberant Los Angeles trio blends influences from the indie rock sound of the 2000s with fluid new wave melodies and lyrics influenced by The Smiths and The Cure. Water District re-imagines pop rock for the new generation, who are ready for a return to emotionally sincere and harmonious music.
Inspired by his artistic upbringing in Southern California—his mother is a painter and his father was a mod rocker in the 1960s—lead singer Tice Griffin recorded his first demo when he was 19 and went on his first West Coast tour shortly thereafter. While living in a van outside of a studio where he worked as a technician, Griffin envisioned himself as the front man for his own band and committed himself to pursuing his dream. Since then, Water District has released a demo album, an EP, and various singles, to critical acclaim and national airplay. The band is rounded out by Erik Williams on drums and Ryan Scottie on bass.
http://waterdistrictmusic.com/
They made a splash with their latest music video release, "Dream With Your Eyes Open," a glossy throwback to their pop rock influences. The scene opens up in a dark room contrasted by stage lights. Neon pinks and blues flash to punctuate the rhythm. Glimpses of the band members fade in and out as silhouettes. The trio appears in color. Bandmates pop in and out of frame, in quick, athletic cuts. Griffin sings from the heart his credo—to fearlessly realize your passions. The visuals build as the song intensifies into a surreal crescendo of light and color. "Dream With Your Eyes Open" is a catchy song that's designed to become the next summer anthem.