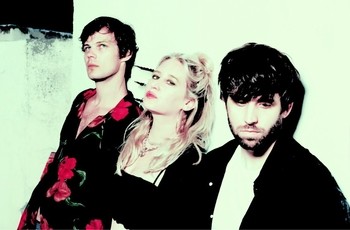 The LA trio My Ultra Violet have released their starcrossed new track 'Wilde As Me'.
After casually swapping numbers at a gig in LA, Magic Wands member Dexy Valentine has teamed up with Coleman Moore and Phil Galloni to create elegant, moody dream-pop.
With the help of producer Adam Greenspan (Nick Cave, Supergrass, Band of Skulls) and drummer Malcolm Cross, 'Wilde As Me' combines the nostalgia of 80's pop with a modern, electronic tone – a hypnotic musical daydream.
Dexy occupies the space of a two-dimensional character within the track to highlight the "internal irony" of the "lyrics in pop songs in general, how they tend to be shallower and more blatant." It's a nod towards one of her favourite poet Oscar Wilde's many famous quips: "only the shallow know themselves".
'Wilde Like Me' is the second single from their debut E.P 'Wilde' released later this year.
My Ultra Violet consists of Dexy Valentine (vocals and lead guitar), Coleman Moore (bass guitar) and Phil Galloni (synths/programming)