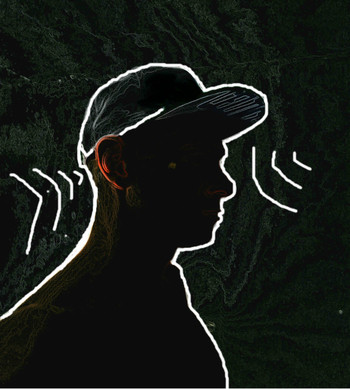 Long – long ago ambitious musicians would call clubs and beg for gigs, then round up all of their friends and relatives to support them at their shows, rent, steal or buy a Ford Transit van and drive from town to town and from college to college playing for ticket sales and as many t-shirts as they could sell. Kurt Cobain said of Nirvana's first tour: "I remember one time in Texas on our first tour we slept at the edge of a lake where there were signs all over saying beware of alligators. We all slept with baseball bats by our sides." One day, musicians said to themselves: someone at a major label will hear our tape and sign us to a recording contract and then all our work will not have been in vain. Then came the internet and social media, and independent musicians could reach potential fans in places too far to travel to, they could contact their peers and help each other organize shows, collaborate on recordings, and increase their audiences with fresh music, stories, memes, photographs and sharing their feedback. The A&R departments at the major labels became superfluous. When once an A&R "scout" had gone to live shows to measure the potential of bands against whatever they thought might sell, the audience have now beaten them to the finish line. Bands and musicians can release music as fast and as often as they like without adhering to the edicts of the gatekeepers at music companies. Prince got so sick of Warner Brothers regulating the timing of his music releases in 1993 he changed his name in (at which time he had over 500 unreleased songs in his vault), quit the label and began performing with the word "SLAVE" painted on his cheek. The internet drove the labels insane, I was working (Art Directing) at the EMI offices in New York on a day when the executives literally rounded up a bunch of lawyers to go to the airport to sue a web user who had posted high resolution mp3s of the latest EMI release (The Divine Comedy by Milla Jovovich) just as Napster was starting. They thought they could stamp out the fire one user at a time. Lars Ulrich of Metallica now recognizes the futility of his attempt to shut down Napster by filing a lawsuit accusing them of copyright infringement and racketeering, and now the Metallica catalog is available through Napster! ( see https://youtu.be/PsCMHprwNak ). By now everyone is familiar with the breaking or discovery of new acts via the internet including The Weeknd, Justin Bieber and the Arctic Monkeys. But more importantly the various social media channels now enable second, third and fourth tier artists as well the chart-busting acts to grow and become profitable. Each digital channel affords the host a style of presentation to suit their needs, new comedians have broken through via youtube, aspiring models have ascended to the commercial runway via their use of Instagram, Luthiers generate sales through Pinterest, the career list is almost endless.
A year or two ago I was playing some live music shows in the North East with a very talented drummer named Colin Rosso from Peabody, Massachusetts. Colin was working in a drum shop during the day, selling gear, performing drum clinics and gigging at night. He's young, infinitely talented and extremely musical. His tastes in music and composition led him to develop his own catalog of trap music, (a version of Southern hip hop with double or triple-time sub-divided hi-hats, heavy, sub-bass layered kick drums) – to further his musical career he drove across the country to Los Angeles where he is beginning to "blow" up via his original songs & music, his unique attitude and his intelligent use of social media – so I interviewed him to gauge how his use of the various social media channels enabled him to create the successful music persona "Rawso" and generate contacts and an audience for his music.
How important is social media to you as a musician and why?
Social Media is a huge part of what I do. It's synonymous with the music I'm creating. It represents my image, artwork, message, fanbase, network…everything revolves around it in 2018, but still comes back to the music. I use it to create an experience for listeners so that they feel like they can hear, understand, and relate to what I'm doing.
How do you use social media – and which channels?
Instagram is the most important so I'm on that a lot. I'll post content everyday like photos, videos, memes, share other people's videos-anything that I feel like represents what I'm about. Also Snapchat, Twitter, and I'm forced to have a Facebook because they own Instagram. Twitter is still relevant for quick thoughts, rants, and a million ways to troll on other people. Snapchat is dope for capturing videos/photos that happen on a daily basis.
Is one better than others – why?
Instagram is by far the best. It's the most relevant to people of all ages, and I can't imagine being a musician and not having one. Nothing even comes close. Instagram took what every other platform was doing and combined it into one. All the success I've had in my short career has come directly from my network on Instagram.
Have you generated contacts, business, followers using social media – which is best?
Yup, like I mentioned everything comes from Instagram. I get messages from people all over the world who've listened to my music. I also get messages from labels, A&R's, clothing lines, booking agents, graphic designers, singers, producers, dancers, managers, etcetera the list goes on. I've been on twitter and facebook way longer than on Instagram and gotten way fewer messages/followers. Again nothing comes close to Instagram.
Where would you as an artist be now without social media?
Everything would be completely different. Almost everything that has happened in my career thus far is a result of social media. Back before social media, I would have been struggling to figure out how to get signed to a label and trying to cope with the fact that nobody really knows who I am "haha." At the moment there isn't really a music scene anymore. The internet IS the scene. People don't go to shows anymore, and all the venues are dying out. But there's more music being put out than ever because of the accessibility of music and people. Social media changed all that.
Do you follow other artists on social media?
Yeah – a lot. They show me how to post and how to be present on social media. What to say and what not to say. How to make your photos and videos look dope. I get a lot of inspiration from other artists for my own content.
What's your greatest success using social media?
Not sure if I understand the question but Instagram is the biggest success if you mean in general. The greatest social media success is probably viral videos. If you study and understand what makes a video go viral, then you'll see people who start with 20 followers and literally their life changes overnight if their video goes viral. They'll wake up with 100k followers. If you mean my success, then I would say my videos that I post. People really like the videos and stories I do. They share them, comment a lot, and it's made a big different in my career because I don't need to play a live show for people to understand what I'm about. They can see everything in front of them when they're on my pages.
https://www.instagram.com/onlyonerawso/
By Conrad W.