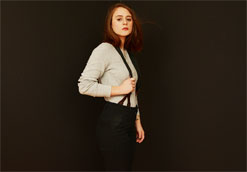 Jess Abbott, also known as Tancred, is a woman with many talents and preferences. Originally apart of the girl band powerhouse known as Now, Now she takes the present moment to redefine her role outside the group. Tancred takes the women's movement and morphs it into a riot. With a natural Kate Nash and Mitski feel, she fights and processes her emotions through music- thus experiencing an ego-death that comes back to life with every record. Experimenting with emo-pop, acoustic guitar, and 90s alternative, she is aesthetically-driven but rock-influenced. Branching into multiple aspects of indie, she crafts her music to carry a 2000s feel with fuzzy synths and slowed down vocals to match the intensity and haziness of being an outsider.
Tancred's former band put out their debut in 2008 and it only took three years for her to find her own mold. She already has four studio releases under her belt including Capes in 2011, her self-titled Tancred in 2013, Out of the Garden in 2016, and her most recent record Nightstand in 2018. Signed to Polyvinyl Records, she uses her aesthetic and ambiance to change the atmosphere when it comes to female forces in the industry. She uses captivating imagery to not only make the viewer think but to breach the barriers of their imagination. With light guiding her visuals, her electric guitar carries luster to her shining vocals.
In her latest single, "Something Else" (off Nightstand), she packs a punch while remaining carefree and confident. Directed by Jason Lester, the video is a gay twist on the popular Netflix show, Riverdale. It takes place in a pool bar as the band Potty Mouth commands the stage as the local act. Tancred is shown on a date with her girlfriend – played by Brittany Ashley, comedian, actor, and "America's Lesbian Sweetheart" – who transitions her outfits between a feminine and masculine look, as the viewer catches a different side to her. Having the best of both worlds, their eradication from traditional social norms is contrasted by the ideals of femininity as cheerleaders display enthusiastic support to this star-crossed love that has recently become accepted. In a humble fashion, Tancred gives inspiration to young girls who are figuring out who they are in a safe place that she sonically creates.