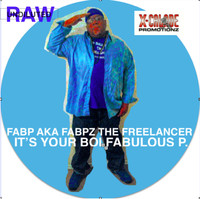 Last month I was first introduced to the man who calls himself Fabp aka Fabpz the Freelancer when I reviewed his album, 'Underground Styling Breeze', (https://skopemag.com/2018/07/25/fabp-aka-fabpz-the-freelancer-underground-styling-breeze). I found out that this rapper was a fan of old-school hip-hop and classic beatboxing as Fabp attempted to bring back the golden age of rap. Staying in the same lane, Fabpz the Freelancer is not swaying away from that retro style on this release titled 'It's Your Boi Fabulous P'. Nothing fancy or pretty about Fabp and his cuts on the new record so no need to cry over spilled rhymes.
All 10 tracks showcase Fabp as a true Freelancer and DIY artist laying down lyrics & mixes with ease. The overall feel of 'It's Your Boi Fabulous P' is certainly out of the ordinary as Fabpz delivers an unorthodox style like no other. The listener will hear distorted vocals and bass with beats from another dimension and far-out rhythms. Fabp has a soft-spoken approach on vocals but exhibits full control over the mic. The tracks are all rough, rugged and raw coming straight out of the New York Underground Hip-Hop tunnels. The sound is gritty as Fabpz the Freelancer is grindin' it out from beginning to end on this album.
Just like I mentioned in the previous review, I love the fact that Fabp is keepin' it simple and takin' it back to the 80s without any high-tech, studio enhancement. The music is all homegrown and all real coming direct from Fabpz the Freelancer and his Underground Lab. I appreciate the passion put into this project by Fabp through his relentless efforts to stand out and be an original MC.
But also, as I mentioned in the prior review, I do still feel that Fabp and his mixes are in need of a little extra oomph. I have to quote the late, great Prince once again here since it heavily relates and that is "Life aint real funky Unless it's got that POP!" Fabp has all the right tools and the foundation is laid; now the Freelancer just needs that additional spark to bring it on home. As REO Speedwagon sings "Keep Pushin On", I know that is exactly what Fabp will do as he discovers that missing link that will magnify his music and electrify his audience. And don't forget that 'It's Your Boi Fabulous P' all day, every day and to the break of dawn!
https://x-caladepromotionz.bandcamp.com/
By Jimmy Rae (jrae2@att.net)