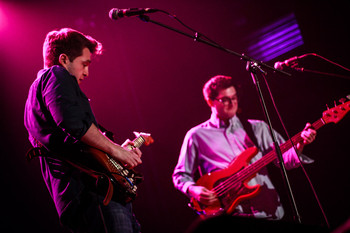 Singer-songwriters The Como Brothers recently released their latest single "First Time" on August 10th. The single was co-written and co-produced by Andrew and Matt Como, and recorded in New York City with Grammy-winning engineer Kenta Yonesaka (Pharrell Williams, Kendrick Lamar).
"First Time" came together through a very interesting string of events, beginning in October 2016 when Andrew was busking with his guitar on the sidewalks of Buffalo, NY before a gig. Andrew was playing the Como Brothers' original song "Magic" to anyone that would listen. He sang the song to a group of bridesmaids and groomsmen whom after listening said that Andrew had to sing the song to the bride and groom.
http://www.comobrothersband.com/
A little over a year later, Andrew was contacted by the mother of the groom, who told him that the bride and groom from the video were now expecting their first child. She wanted to see if Andrew and Matt could surprise the couple at their baby shower with a song for the occasion, and "First Time" was born!
The song is an ode to unconditional love and the first time one experiences that with another. The emotional video for "First Time" features home videos of the Como's from when they were infants up until the present day.