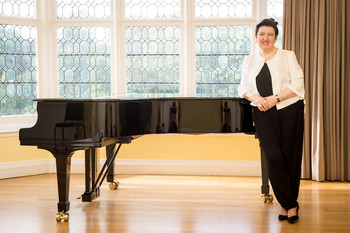 Tuesday is here again. We are so excited to be joined today by Lady Geraldine from Scotland. Lady Geraldine was born in the English West Country ( You never ask a Lady her age ), but by the age of 7 was diagnosed profoundly deaf after years of constant ear infections and catastrophic damage to the ears. At the age of 23 she was offered a reconstruction of the right ear which amazingly gave her partial hearing once more and let her lead a more normal life and of course led to her great love of singing and music. Today we are so excited to get to chat with her and find out what she is up. Be sure to check her stunning new track 'A Trick Of The Light.'
@skopemag: Where are we talking from today?
Just talking a break from a recording session for my new album in our Recording Studio in Edinburgh, Scotland
@skopemag: What is the most current project that you are working on at the moment?
Our new album Titled – Fast Cars & Movie Stars featuring nine more fabulous original songs from the heart. The album is currently being mastered in world famous Abbey Road Studios London, England and will be released Worldwide on 1st October 2018
@skopemag: Got any music posted that we can stream and check out?
Yes from our website ladygeraldine.co.uk or Soundcloud:
@skopemag: What is it about music that you knew this was more important than all other artistic endeavours?
It's so rewarding being able to express your every thought and emotion in a positive way, only music allows such detailed complexity. It's truly wonderful to shape every aspect of mood, style and content within my songs and find like minded people that these works and emotions resonate with.
@skopemag: When you are not doing music what else do you enjoy?
All creative endeavours such as Jewellery and Art – I now have my own beautiful jewelery ranges which feature my own designs of pieces incorporating the likes of 18 ct gold, Rubies, Topaz and Pearls and I also create my own original Art works in oils and digitally, as well.