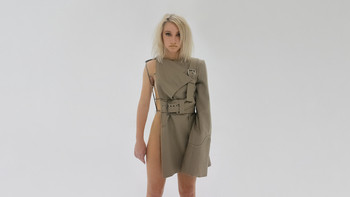 With a bold tenacity that shines bright in her music and brand new video, it's no wonder singer/songwriter Mariel Darling has already had a headstart in her music career having been performing and building her career for the past seven years. And with her brand new single and video "No Mirrors", she continues to make waves in the ever growing and changing world of music media.
A Western Massachusetts native, 16yr old Mariel Darling started recording music when she was only nine years old after being discovered by manager Jackie Sarkis – formerly of Radio Disney, and at age ten she was already turning heads performing at the New York Knicks halftime show. Even in her early years, the young singer knew that she wanted to use her talent to help promote positive messages, and by eleven she was already hard at work writing and performing songs for the National Education Institute encouraging other kids in a fun and upbeat way to read, study, and focus on their education as a way to further their well-being. These initiatives lead Darling to perform on bigger national stages and festivals including the Maritime Festival, Washington D.C.'s CureFest for Childhood Cancer, and the Camplified Tour which saw her perform in front of thousands of teens and tweens at summer camps across the nation at fourteen.
Cut to 2017, and Darling has become an emerging star in the new music world of social media! A verified, crowned "Muser" and host of the globally syndicated show "Jukebox Countdown" on Musical.ly's "Live.ly TV", she quickly grew to have a large number of fans on the popular music app. Constantly writing and collaborating, she's been recently working with major label producer/songwriter Cass Dillon, while consulting with Artist Manager/Developer Stefano DiBenedetto of The Hang Productions.