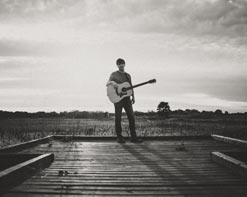 Tuneful and tenacious, Michael Pinder is an engaging artist you quite literally can't put into a particular musical category- but he can be categorized as a renaissance man with many talents. He is a thinker and a ponderer of life's mysteries. He spends much of his time working with people to nurture their creative spark and is a leader and mentor in his community. As a passionate artist, he is constantly evolving; "So Confused", his newest single, has transformed him into a certified musical force to be reckoned with.
Michael Pinder isn't the only one in his family who is wildly talented. His father was inducted into the Rock and Roll Hall of Fame for being the original keyboard player for the legendary British rock band The Moody Blues. His father never pushed music onto him but it came naturally. His brother Matt has also been inspired by his father's musical influences- who knew talent could be passed down? The brothers have been releasing music for many years from their joint band The Pinder Brothers and have a shared history that expresses itself in the unique melding of their voices. Michael has also worked with some of the most in-demand studio musicians throughout the Bay Area on subsequent releases "Ordinary Man" and "Melancholy Sea." Taking a dive into his solo career, the future looks bright for this whimsical wordsmith. He has released two singles so far, "Searching for September" and "So Confused"; he'll be releasing a full-length project next year which is sure to highlight his individuality and the refined skill he has acquired throughout the years.
http://www.pinderbrothers.com/
"So Confused" holds the first insight into what is to come for this highly skilled musician. "Searching for September", his debut single, was an indie anthem with a more stripped-down acoustic feel- but with the arrival of "So Confused", Michael's music starts to come into deeper focus. The video opens up with a black backdrop, making Michael once again the center of attention. He steps forward, wielding a Fender strat with an indigo finish. Serving up an exquisite sonic recipe, Michael brings in a variety of tonal flavors and harmonic approaches to influence his guitar-driven melodies. "So Confused" features a lush and introspective musical landscape; as the sounds begin to come to life, the narrative unfolds; the curtain-parted to reveal a window into Michael's unseen emotional world. The way forward is paved with uncertainty and although Michael has been through rough times, he takes his struggles and turns them into a creative muse, further proving his resilience. Hard-working, inspired, and talented, it won't take long for this Pinder brother to rise above the noise.