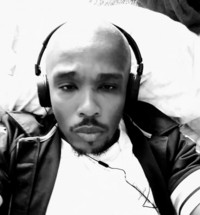 Anyone who has been following underground hip-hop lately is familiar with the crater that Willie J has been imprinting on indie music with his enigmatic, charmingly original flows and brilliant prose. Whether you've been listening since the beginning or are just getting into his sound today, "Sunshine with the Rain," is an excellent demonstration of just how talented Willie J really is as both a songwriter and as a performer. Teaming up with Arthur Anthony, who boxing fans will better recognize as Arthur "Flash" Johnson, "Sunshine With the Rain" sees Willie J's sound maturing into its own and reaching the creative fever pitch that his previous work had hinted at better never completely realized. I had the great pleasure of previewing the track ahead of its release and was more than impressed with the caliber of content that I found.
"Sunshine With the Rain" is representative of a new trend in hip-hop that owes as much to indie rock's DIY ideals as it does old school rhyme and rhythm. You could make the argument that Willie J's music is much more R&B than it is hip-hop, and although I would agree that his musical attack is heavily steeped in the silky smooth harmonies of R&B, his beats and vocal style is definitively hip-hop, almost more so than some of his forerunners. "Sunshine With the Rain" is a relaxing song that never gets aggressive in its presentation, but its melody is still ominous – even jarring at times – and demands a reaction out of anyone within earshot.
A lot of credit needs to be given to Arthur Anthony's contribution to this song. His melodic presence duels with Willie J's pointed lyrics and although both vocalists are foreboding and as cutting as a rapier, it never feels like they're competing for our attention. Instead there's an almost deliberate chemistry that tightens their duality until their combined force becomes suffocating and we're powerless to escape the enormous, textured shadow they cast. I listen to a lot of collaborations, particularly in hip-hop and R&B, and it isn't often that two independent solo artists are able to come together and play off of each other's cues as well as these two do here; I'd really love to see them work together more in the future.
"Sunshine With the Rain" has got to be the coldest track of the year, and even though some of you might think I'm prematurely anointing this single with such a title, I'm confident as both a hip-hop fan and as a music critic that there will be few – if any – that are able to challenge what Willie J and Arthur Anthony did with this track. Willie J has been building so much momentum in the last couple of years, and I genuinely think that this could be the single that breaks his style into the mainstream and garners him the widespread critical acclaim that he's worked so hard for. He's got my seal of approval, and I'd encourage any music enthusiast to check out "Sunshine With the Rain" themselves and see exactly what I'm talking about.
Willie J's music has been heard all over the world due to the radio plugging services offered by Musik Radio Promotions. Learn more – HTTPS://musikandfilm.com
Gwen Waggoner