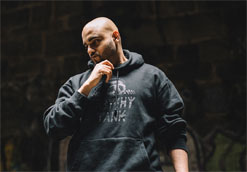 There are few forces in popular music quite as formidable as a great producer on a mission. Just as a good film director inevitably leaves his stamp on the films he makes, a skillful producer at the helm of a musical project guarantees consistency, vision, and a distinct aural signature that can't be counterfeited. Ashok Kailath – who records as ash.ØK – is a producer like that. The Unraveled, his debut album, is an amalgam of styles and moods, incorporating elements from dance music, world music, progressive rock, modern pop, and left-field experimental sounds. Yet no matter what direction he travels or how far out he goes, the music he makes is always identifiably his. You'll know an ash.ØK song the moment you press play – no matter which of his talented collaborators he's called on for any given track.
Yes, the Pennsylvanian producer has friends, and he knows how to match them with music that lets them shine. More than two dozen artists contribute to The Unraveled, including international reggaeton sensation Conkarah, virtuoso Indian percussionist Jomy George, and the raucous, pan-ethnic West Philadelphia Orchestra. Many songs on the record stand out and have garnered significant press, but his latest single "Holding Sand" reaches a new level in terms of pushing the limits of juxtaposing live and electronic sounds.
On this track, ash.ØK teams up with internationally renowned session cellist and erhuist, Tina Guo, who's repertoire includes appearances at the ACMA, Jimmy Kimmel Live, the Grammy Awards, MTV Movie Awards and performances alongside Stevie Wonder, Peter Gabriel, Josh Groban, Chris Isaak, Ariana Grande, and Michael McDonald, among dozens of others.