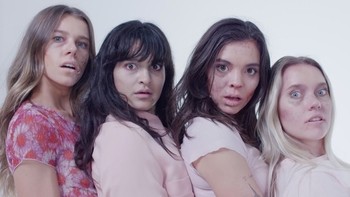 It's not every day that you come across a band that no matter how hard you try, their undeniably catchy melodies and hooks are embedded in your head for days on end. Utah based quartet, "The Aces" have managed to accomplish that and more with countless releases over the past few years. With their 80's inspired guitar lines, groovy basslines, unforgettable melodies, and their sheer energy and love for music, it is no secret as to why these girls are rising faster than ever and will continue to do so. The follow up single to their smash "Volcanic Love," "Last One," will be a track that listeners of all ages and backgrounds will connect with.
"Last One" is the story of being addicted to someone, their presence consumes you, practically taking over your life to the point where you focus on nothing else but that individual. Directed by drummer Alisa Ramirez, the girls decided to go in a more literal direction of what "Last One" means. Instead of using a person, they decided to use a poignant symbol that embodies addiction. Through the progression of this video, their addiction grows and their downfall is imminent. "Last One" truly exemplifies the effect someone or something can have on you, and that the magnitude of this effect can be greater than you have imagined.
"Last One" has come as the follow up single to the band's debut record When My Heart Felt Volcanic which went #5 on the Alternative New Artists Album chart and turned heads of everyone in the Alt Rock world. Aside from the release of their record, the girls had a busy year which include coming off two successful U.S. tour with COIN and X Ambassadors, as well as performing on Late Night with Seth Meyers, at Firefly Music Festival, Bonanza Campout & Music Festival, and Lollapalooza. If that wasn't enough, the quartet will be supporting 5 Seconds Of Summer on their North American Tour that starts later this summer as well as heading across the pond for their first headlining European Tour.