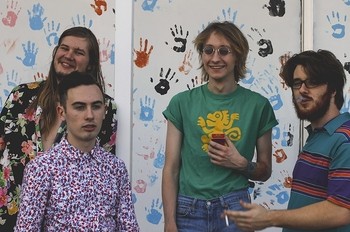 AK-based Couch Jackets are back with "Pillows and Rillos", a mob-enforcer tale, in which the hitman offs his marks with cream pies. If the members of Couch Jackets (and their friends and associates) appear to be having an absolute blast doing these clips, that's because they are. They're sending their messages in a musical and visual language of their own invention, and it's only a matter of time before everybody gets the transmission.
https://www.facebook.com/couchjackets/
The song is off their recently released album Go To Bed, the fullest realization of the band's visionary sound yet committed to record. It somehow manages to sound more polished than their prior recordings while preserving the primal chaos and sense of fun that has always distinguished the band. We have no idea how they've pulled off this trick. Like so much about Couch Jackets, their methods are shrouded in mystery.