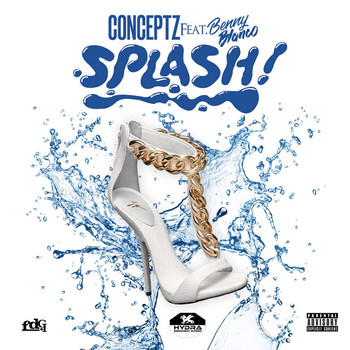 Music acts of any stripe rarely carry themselves with the sweeping confidence that seems intrinsic to Conceptz. The brother duo of Short Fuze (aka Fuze 4 Short) and Highrowglyphfix (aka HRGF) hail from New York State's Orange County area and began presenting their powerfully individual take on hip-hop in 2011. Their stylistic range, however, is far from narrow as the duo's music frequently incorporates other sounds like jazz and soul influences and this wider than average musical breadth is a hallmark of every project they touch. Their latest single "Splash" features contributions from guest Benny Blanco, but the real star here is the conceptual excellence they bring to the song and its accompanying video – Blanco's presence accentuates the inherent strength of the song, make no mistake, but Conceptz's "Splash" ranks as their best single yet. When Conceptz claims they are capable of writing any sort of music that they like, "Splash" offers compelling evidence it isn't merely bragging.
This track hits you like a top notch mix of new and old school approaches with a swaggering, intensely lyrical performance from Conceptz over a soulfully rendered groove. A lot of what I like in material like this is how well it projects its confidence and clarity of vision and Conceptz definitely knocks audiences out with their assertive strut. The multiple trade offs of vocal lines in the song navigate their way through a twisting, rhythmic lyric maze, unrolling syllables like drum beats, and locking every bit of their phrasing into the song's backing track. Rarely do you hear such young acts with both the imagination and dead shot aim this duo exhibits with "Splash". There's some grinning humor coming through in the words at a few points, but the attitude is lusty and boisterous without ever being too obvious.
Unlike a lot of acts in this genre, Conceptz doesn't see their backing tracks as mere vehicles for the vocals. Naturally, the vocals are a highlight of any performance, but Conceptz pays close attention to crafting ideal accompaniment for their delivery and they give the music an airy, yet forceful feel that finds its groove early and moves fluidly and unwavering from one passage to the next. The chorus is especially good and the song's unquestionable musical high point. As an older fan of the genre, I appreciate what Conceptz do here because they bridge so many gaps between the past and present while keeping things cutting edge and intensely individual. "Splash" is good fun from first to last and gets you involved rather than coming off as self-indulgent or just not very good. This brother team is some of the most impressive young talents rising through the hip hop world today and they will only keep getting better and better for years to come. The video puts an exclamation point on that and will definitely nabs scores of views in a short time.
Jason Hillenburg