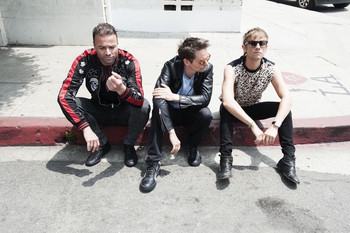 Muse unleash their newest single and video, "Something Human," from their upcoming album coming this November.
Co-produced by the band and Rich Costey and mixed by Mark 'Spike' Stent, "Something Human" is an uplifting, cinematic, yet intimate track that lyrically addresses the need to reset and re-engage with our human emotions.
The video for "Something Human" was directed by Lance Drake, who also directed the band's video for "Dig Down" and "Thought Contagion."
"Life on the road can bring out your inner beast, this song and video is about taming that beast, desiring a return to something human. Plus, Teen Wolf is cool," says Matt Bellamy, Muse.
Adds Lance Drake, "Our aim with 'Something Human' was to continue the journey that began in 'Dig Down' and 'Thought Contagion.' Pulling further into a simulated world we follow Matt, Dom, and, Chris on the chase of a lifetime – where something as simple as returning some video tapes becomes an epic journey."
Photo – Jeff Foney