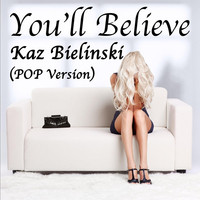 Kaz Bielinski sings with power on the tender "You'll Believe". Done with the utmost of grace and style, the western twang of the country sound rings true. Soulful and delivered with such heart, Kaz Bielinski crafts an immaculate world throughout the entire piece. By far the true highlight of the track comes from Kaz Bielinski's thoughtful lyricism. Proving to be a deft storyteller, Kaz Bielinski lets a sense of compassion take hold over the course of the piece. His words have a tremendous amount of life to them, exploring concepts of romance, yearning, and true desire, all done in the best way possible.
Things start off on a careful note. Slowly coming into view the guitars have a dreamy aura to them. Upon the percussion entering into the mix things are propelled quite quickly allowing for a great deal of color to come into the mix. Everything simply swirls together into a stream of consciousness sort of tact. Instrumentally vibrant Kaz Bielinski lets the piece have a little bit of edge to it. Passion pours through the whole of the work while it tremendous itself into a gorgeous blurred beauty, one that feels akin to rushing towards a true love. For the final stretch Kaz Bielinski lets loose a little, right before the piece effortlessly melts away.
On "You'll Believe" Kaz Bielinski crafts a timeless classic, one who message, and melody linger in the mind long after the song has ended.
By Thomas Wrung