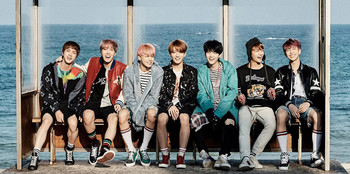 If you haven't heard about BangtanSonyeondan (방탄소년단), more popularly known as BTS, you might want to freshen up on your pop culture. Taking the Billboard's top social artist award two years in a row, they have secured their name in the American music industry.
Though many people initially attributed their success to their overzealous fans, known as ARMYs, the KPOP group has been slowly recognized for their musicality as well.
After their debut performance in the 2018 Billboard Music Awards, they caught the attention of many professionals in the industry. Pitchfork, an American magazine known for their music reviews, has given BTS' newest album, Love Yourself 轉 'Tear', a 7.1 score.
Recently, the boyband has ended their album promotion in South Korea, and is planning to prepare for their world tour.
Love Yourself World Tour
Luckily for American ARMYs, Big Hit, the entertainment company handling BTS, has first announced the group's US tours.
The group will kick off their tour in a show in Seoul's Olympic Stadium on August 25 and 26. Then, they will continue across major cities in the US including Los Angeles, Oakland, Fort Worth, Newark, and Chicago. The US tour will begin on September 6 and end in October 3, when the group will head over Europe.
For now, Big Hit has only announced their US and Europe tour dates and venues. BTS has, of course further schedules, and faithful BTS fans expect them to visit several Asian countries within the last quarter of 2018 to the first quarter of 2019. However, nothing has been confirmed yet.
US Tour Venues and Schedules
Here are the confirmed dates and venues for BTS's U.S. Tour:
September 6: Staples Center, Los Angeles, USA
September 8: Staples Center, Los Angeles, USA
September 9: Staples Center, Los Angeles, USA
September 12: Oracle Arena, Oakland, USA
September 15: Fort Worth Convention Center, Fort Worth, USA
September 16: Fort Worth Convention Center, Fort Worth, USA
September 28: Prudential Center, Newark, USA
September 29: Prudential Center, Newark, USA
October 2: United Center, Chicago, USA
October 3: United Center, Chicago, USA
The Staples Center in Los Angeles can hold about 21,000 people; the Oracle Arena in Oakland, 19,500 people; the Fort Worth Convention Center in Fort Worth, about 17,000 people; the Prudential Center, 19,500 people; and the United Center in Chicago, 23,500 people.
Tickets for US Tour: Sold Out
Tickets for BTS's US tour opened for sale on May 5 and May 7. Unsurprisingly, the tickets sold out within minutes. Thus, BTS has decided to add another concert in Staples Center, Los Angeles. Tickets for this concert have been sold out as of the writing of this article as well.
Staples Center can hold 21,000 people, and with four sold out shows, you can safely say that BTS has indeed gathered a lot of fans in the US.
If you are planning to buy a ticket, you might find resales for over $1000. Promoters of the concert, however, have issued a statement that says they'll take extra measures to ensure that these scalped tickets get cancelled right away.
Unraveling BTS's Success in America
Setting foot in the American music industry is tough because it is highly competitive. And BTS is certainly not the first KPOP group that has made an attempt to do this. However, they might be the first one to have successfully done it.
Long before the Billboard Music Awards, BTS has been trying to learn the world of hip-hop and the western culture. In 2014, the group lived in Los Angeles and took lessons from Coolio and Warren G. In the following years, they've consistently attended KCON.
Their first US tour in 2015, Episode II: The Red Bullet did not gain much media attention but was fairly successful. The next tour in 2017, Episode III: The Wings Tour was more successful as they became arena headliners. They sold 60,000 concert tickets.
Shortly after BTS's debut in Billboard Music Awards, the group has topped the music charts. Their album Love Yourself 轉 'Tear' became #1 in Billboard 200 and their song Fake Love reached #10 in Billboard Hot 100 for the first week of June.
They've officially secured their spot in the Billboard Top 100 Artists as well.
You can say the BTS's success in the US is the fruit of their consistent effort to bring their music to their fans across the world.