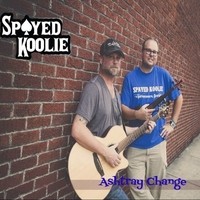 Spayed Koolie goes for a soulful, bluesy take on country with the playful "Ashtray Change". Incredible storytelling rests at the very heart of the entire album, while Spayed Koolie explores the importance of navigating relationships, finding one's own path in life, and yearning for change. By letting all these impulses roam wild and free, there is a loose sort of attitude that takes place over the course of the album. A sense of defiance rises up helping to tie the entire journey together. The arrangements nicely intertwine with the lyrics, as they possess a great deal of instrumental color.
"100 Years (Need)" goes for a spirited journey, opening the album up with a tremendous amount of power. Things move to a swinging rhythm on the soothing "We Ain't Blind". Starting things up with a raw grit before the song bursts forth with tremendous style "You Know" serves as the clear highlight of the album, featuring chaotic organ and guitar soaring up in the sky. A playful groove takes hold on the 60s classic rock vibe of "Stoney Cove". Intimacy pours through on the tenderness of "Songwriter" featuring rather fine fiddle work. Done in a direct, personal way is the title track, the intensity of "Ashtray Change". Effortlessly bringing everything together in a rustic sort of charm is the album closer "Another Day".
"Ashtray Change" shows off the undeniable chops of Spayed Koolie in creating a brilliant, highly articulate series of snapshots from a life lived to the absolute fullest.
By Beach Sloth