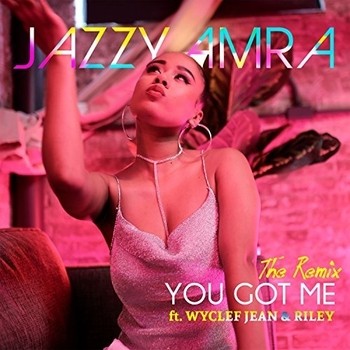 From his time in hip-hop group the Fugees to his solo career, Wyclef Jean knows how to spot talent. His latest prodigy? Jazzy Amra. Suddenly rising in the music industry, Jazzy Amra looks like a combination of Rihanna and Ariana Grande and sounds like Destiny's Child. Growing up, she had a hard time finding herself apart from her upbringing, but that doesn't take away from the fact that she is special and a royalty. Despite these hardships, she does truly shine through. This R&B and hip-hop singer always turns a negative into a positive and her tenacious energy can be felt through her visual and vocal performance. Now that is how you incorporate soul to your arsenal!
Originally from the Bronx, Jazzy Amra is an R&B artist signed to Heads Music. She will release her first project, Amra this summer and has been touring with her mentor Wyclef Jean. She found inspiration to engulf herself into music from her mother; her strongest and dearest memory was when she would dance and sing in the mirror. Those inspirations definitely show in her music from Lauryn Hill, Mary J., Toni Braxton, La India, and other R&B artists. In her songs she includes strong features to complement her verses and has a number of collaborations with Dave East. The absurdly beautiful Jazzy Amra just released her remixed single for "You Got Me" and it showcases her best assets and foreshadows longevity in her career.
Jazzy Amra's latest video for "You Got Me" features Wyclef Jean and Riley. The song contrasts her R&B side with her soft side to create a seamless video. The video starts with her talking to her girls about her man and then it pans up to show us a 90s themed video complete with soft shots, hard dancing, and killer fashion. Her confidence shines through as she adds playful dance moves, but stops for an exceptionally soulful bridge to interpret the party. The imagery perfectly matches the vocals, which gives us a complete picture of who she is.