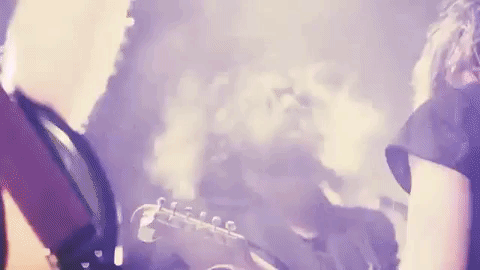 James' third solo album, UNIFORM DISTORTION is available HERE; deluxe bundles featuring limited edition lithographs and clear vinyl are exclusively available HERE. James released an official music video for the album's lead single, "Just A Fool." In addition, a video shot by Danny Clinch of the band performing the album's second single, "Throwback," at their first-ever show at Rough Trade in Brooklyn, NY, in May was also released.
Making the UNIFORM DISTORTION album cover just right was very important to James. As he was flipping through the pages of The Last Whole Earth Catalogue one day, a resource that was in 1971 basically the internet before the internet, he stumbled upon a distorted photo of "The Illuminated Man" by photographer Duane Michals. Immediately moved by the photo, he asked for permission to to use the image as the album cover. James wrote to Michals himself because he wanted to use the photo exactly as he saw it in the catalog rather than the original image. In May, VEVO shot a video of James and Michals meeting in person for the first time and the conversation that ensued. In this VEVO original piece, the two discuss artwork, art and life in the digital age and how that relates to our sensibilities of self, politics and internet. The video is called "Jim James and Duane Michals Discuss the Illuminated Man."
Having just opened for Robert Plant at the Greek in Berkeley, CA, James recently announced a unique, career-spanning solo acoustic concert tour, beginning November 2 at the sold out Los Angeles, CA's Cathedral Sanctuary and then visiting historic theatres and performing arts centers across the United States, culminating with a November 21 homecoming show at Louisville, KY's much-loved Louisville Palace. The dates will see the acclaimed My Morning Jacket frontman – accompanied by longtime touring drummer David Givan – perform a career-encompassing repertoire including songs from UNIFORM DISTORTION (ATO). Special guest Alynda Segarra from Hurray for the Riff Raff will be support on all dates. The Denver, Chicago and New York shows are also sold out. James and his full-band will be appearing at Los Angeles' intimate Pico Union celebrating the release of UNIFORM DISTORTION on July 18.