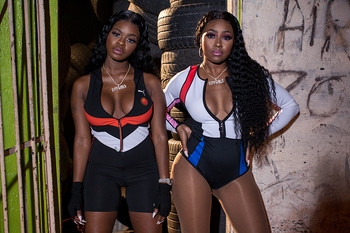 One of the most provocative female hip-hop duo in years, City Girls today share a new video for "Sweet Tooth" from their recent project Period on Quality Control Music. Duo JT and Yung Miami are the next generation of female rappers, and are kind enough to rhyme out a list for all those aspiring to munch at the City Girls' exclusive Candyland buffet. JT and Young Miami are brash, raw, uncensored with a swagger rooted in the queens who came before them. Their empowered themes were originally put forth by Foxy Brown, Salt N'Pepa, Khia and friend/Miami-based and mentor Trina whose own influential career help spawn and revolutionize female music and rap.
The colorful video may be all lollipops and cotton candy, but City Girls have propelled themselves by flipping the script of rap's boys club — and they are ready for the finer ish in life. Period arrived with the City Girls at the helm as an empowering introduction to achieving success and luxury by any means necessary, including maxing out guys' Visa's. "Sweet Tooth" follows recent cleverly outspoken videos for "I'll Take Your Man" and "Tighten Up" from their debut project.
Coach K and Pierre "Pee" Thomas of the renowned Quality Control Music label discovered the girls and took their first song "Fu*k Dat N****" from a regional hit to a national smash when it appeared on the seminal Quality Control Presents: Control The Streets Vol 1 compilation. Period has been covered by the likes of Pitchfork, Noisey, XXL, COMPLEX, FADER and more. Honorable descendants in the lineage of Miami's legendary music culture, akin to a long history of powerful women in the rap game, City Girls are the next queens to claim the throne.