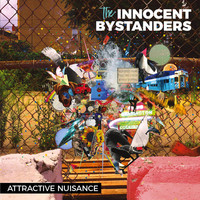 Playful to its very core, the Innocent Bystanders explore a celebratory sound with "Attractive Nuisance". Saxophones have a swinging style to them helping to give the whole proceedings a bit of a ska flavor to them. Vocals go for something a bit untamed, wild as they roam through the impeccable tracks. Everything has such a great level of balance about it, from the glistening melodies to the way the rhythms have such a tremendous amount of energy. Layer upon layer comes into the mix helping to incorporate a wide variety of color, allowing for the whole of the collection to come together into a perfectly formed whole.
Bandcamp – https://innocentbystandersband.bandcamp.com/album/attractive-nuisance
Glistening organs introduce the collection with the giddy "Gotta Get Outta Here". Vocals possess a tremendous kindness to them, while the observational lyrics go for something a bit poignant. Piano skitters about the whole of the piece, adding a charming emotional affect onto the whole. "Highways" delves into a delightful little romp, one that recalls early 2000s indie rock, for every gesture feels carefully considered. A laid-back groove drives "Emerald Eyes" forward, going for something a bit more introspective. By letting the many layers interact it all feels so soothing, making it easily the highlight of the collection. Stripping things down to the essentials with an almost jazzy, bossa-nova quality, is the closing summery style of "Working Man's Daughter" which is outright lovely.
With "Attractive Nuisance" the Innocent Bystanders sculpt a whimsical world that becomes such a blast.
http://www.theinnocentbystanders.com/
By Beach Sloth