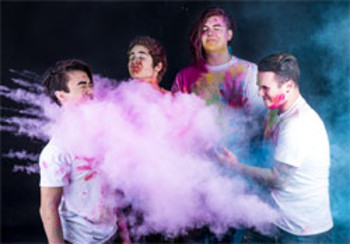 Who is Who We Are? This Los Angeles band is mainly composed of members aged sixteen to eighteen, but they come off as old souls. Taking a different path in life is not a stranger to these devoted followers of the craft- which sets them apart from any other pop-punk band. With a clear vision of what they would like to achieve, they are bound to reach and exceed their goals before they even hit the legal drinking age. All having paths of their own, they come together to tell a collective story that has passion behind it while still remaining unafraid to be vulnerable.
https://www.instagram.com/thisiswhoweareofficial/
Who We Are was born in 2016 and is composed of Nikko Solorza on vocals, John Warren on guitar, Robby Craig on drums, and Jeremy Greenberg on bass. Robby is actually the odd man out at age twenty-five and acts as their main mentor. They also have a great production team including Johnny Young from Message to The Masses and Nicki Morzov from The Night Game and Dan and Shay. Off to a great start, these guys have always wanted to produce music with some members trying to break into the business at age fourteen. Vocalist Nikko was actually sixteen when he joined the band and his struggles with his father influenced their first self-titled EP, Who We Are. Nikko's father was diagnosed with cancer which brought up a lot of emotional turmoil and frustration for the singer while he was struggling to balance where he stands within himself and his family. This is highlighted in the video for "Memory" and it showcases the anxiety of growing up in a time of hardship and struggle.