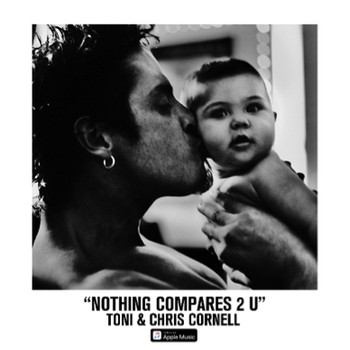 In honor of Father's Day, Toni Cornell releases a new cover of Prince's "Nothing Compares to U" that she recorded with her father, Chris Cornell, before his untimely death last May. On the eve of World Refugee Day (June 20), Toni pledges to donate her proceeds from the song to the International Rescue Committee, just as Chris Cornell did with the proceeds from "The Promise," his final music video.
Toni has unveiled the artwork for the song which can be seen above and the song is now available at all streaming services and digital retailers:
iTunes: https://itunes.apple.com/us/album/nothing-compares-2-u-single/1399830810
"My father taught me to be a voice for others who don't have one," says Toni of her charitable contributions. "Especially with the tragic events happening today, where children are being separated from their parents at the border, it is not okay. Please help us keep the promise (on behalf of the world's most vulnerable children) for my father."
Cornell and her family toured refugee camps in Greece in April 2017 with the International Rescue Committee, and there her parents decided that The Chris and Vicky Cornell Foundation would focus its efforts on child refugees.
The International Rescue Committee responds to the world's worst humanitarian crises, helping to restore health, safety, education, economic wellbeing, and power to people devastated by conflict and disaster.