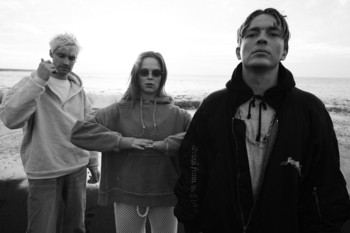 Fresh off the back of a UK & European tour with Finnish sensation ALMA, Anglo-Danish trio Off Bloom release new single 'Not Sorry' accompanied by a sunny, retro-hued video by Portuguese director João de Botelho.The video was shot on 8mm film in the outskirts of Rome and captures the raw energy, emotion and spirit found in the song. Watch the video for 'Not Sorry' HERE.
"'Not Sorry' is about honesty between friends and being true to yourself and your beliefs," the band reveal. "It's important to be honest to those close to you and call them out on their bullshit, and not be sorry about it! We decided to just strip everything down and write to a simple piano part we wrote on the spot. After a few hours the song was done and had really captured the rawness of what we felt. In that way this song also feels very personal and close to our hearts."
'Not Sorry' follows last month's '90s inspired love song 'Love Actually,' co-produced with rising Danish producer Vera, which already has racked up over 930,000 streams on Spotify, as well as being included in their biggest playlist to date Good Vibes (2.1 million followers), plus Young & Free (#7 peak position), Indie Pop (#1 peak position), Left of Centre and NMF UK, US, Sweden, Denmark and Norway.