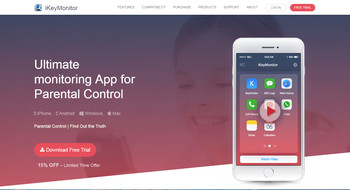 A parental control Android keylogger like iKeyMonitor may be needed to protect children safe from the possible dangers online. The children are the future which will represent you and your legacy, so it is necessary to protect them from the upcoming risks of using internet and its glamorizing world. Today, almost every kid is enthusiastic to know about the internet. Once he or she is skilled with that, then he or she is curious to know the various websites which are to be used in adult supervision. Or these sites cannot be visited because of the explicit content which can pollute and even can form a base in their soft brain. And this is why we need a parental control keylogger to protect children.
Protect Children's Safety with Parental Control Keylogger
Today, kids are very familiar to mobile phones, iPhone, tablets from where they can operate the internet. It is totally impossible to stop your kids directly from accessing any website which contains explicit materials which are not good for their mental health. To overcome this issue iKeyMonitor parental control app has been launched.
iKeyMonitor is a parental control Android keylogger which can protect the kids and their mental health. It works as remote control through which it checks what their ward watch on the internet and can block the harmful apps and games which can destroy the future of their kids.
Features of iKeyMonitor Parental Control Android Keylogger
Location Monitoring
It is necessary and important for every parent to know the location of their kids since it can happen that your ward cannot express his or her desire towards you may be because of the fear of the elders or they are looking to take revenge or maybe they are in touch with anti social elements and this would be critical stage for your ward. This feature of the Android keylogger will enable you to know the location of your ward and you can act as per the situation.
App Blocker
This app has app blocker which can limit the usage time of some apps if they are explicit. If parents find that the app their ward is using contains outrageous content that may influence their mind in unethical way, then by the use of the app blocker parents can block those contents.
Content Monitoring and Reporting
This feature of iKeyMonitor helps in monitoring the web sites, social networking sites, other networking sites. The app will let you know about the previous and present chat and messages forwarded as well as received on the social networking sites like face book, Whatsapp which will help in keeping an eye on your ward's feelings and emotions that they are hiding from you and expressing concern with their friend. The app will also enable you to know about the web site which your ward may be using in your absence. You can get information with the real time. A parental control Android keylogger also notifies the parents through Email about the current web site their ward is using and parents can educate their kids once they find inappropriate websites are visited.
It can be naturally concluded from the content above that a parental control Android keylogger is useful and meaningful in protecting children's safety when children are using an Android phone. If you are also parents who have to focus on work, iKeyMonitor may function as a digital parenting tool and shows you everything that your kid does.