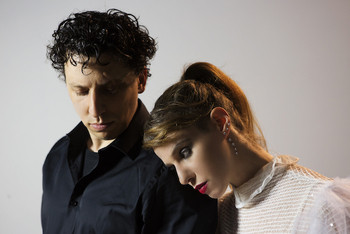 Walk around the sprawling post-industrial neighborhoods of Northern Bushwick, and you're certain to see some unusual things. These streets are busy with artists – musicians, performers, painters, dreamers, visionaries of all kinds. But there's one thing we'd wager you've never seen on these streets: an elephant. In Seasonal Beast's hypnotic video for "I Can Make You Disappear", this unexpected visitor shakes the Brooklyn pavements, following in the fleet footsteps of dancer Tiffany Ogburn. Woman and pachyderm move in strange synchronicity – the dancer is graceful and quick, the elephant is ponderous and magisterial, yet somehow, they're complementary parts of a greater artistic whole.
https://www.seasonalbeast.com/
So how did they do it? How did Seasonal Beast get an elephant to appear at the corner of Scott and Scholes (not to mention Ogburn's bedroom)? Yuval Semo isn't telling, but it's worth remembering that video trickery is one of his interests. The Seasonal Beast synth player and songwriter doubles as a filmmaker and film scorer, and he's directed this clip himself, right in the heart of the borough he calls home.
Semo's thick, rubbery bass synthesizer is one of the highlights of "I Can Make You Disappear". But the song wouldn't soar as high as it does if it wasn't for the deliciously deadpan vocals of Yula Beeri, who is also the founder and prime mover of Brooklyn favorites Yula & The Extended Family. Together, Semo and Beeri – along with a full rhythm section that plays with empathy and sensitivity – make marvelously smeared, deliciously moody modern pop. Muscle Memory, the band's first album, was received enthusiastically in New York City and beyond, garnering positive press in Imperfect Fifth, Impose, Audio Fuzz, and other weblogs. Theirs is cinematic music: dramatic without being showy about it, designed to soundtrack your strangest dreams.
Just as Semo and Beeri leave room for their bandmates to contribute ideas to Seasonal Beast, the "I Can Make You Disappear" video is a genuine collaborative effort between artists. Tiffany Ogburn choreographed her own wild steps along the Brooklyn streets. Video artists Eyal Be and Daniel Dulitzky sprinkled some magic on it to help convert Bushwick into an unlikely bestiary. Fashion designer Mor Kfir – associated, like Yula Beeri, with Bushwick art space The Hive – provided Ogburn with a gauzy dress that augments every gyration she makes. It's a collective hallucination they've conjured — one that could only have come from the artistic ferment in Bushwick — and one well worth inhabiting.