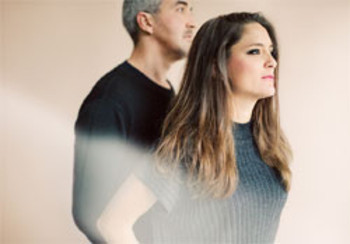 How does a new independent band follow up a breakthrough video? That was the question that confronted Tiny Fighter, an indiepop duo from Stockholm with an eye for dramatic gestures. Earlier this year, singer-songwriter Therese Karlsson and multi-instrumentalist Tim Spelman introduced themselves to a worldwide audience with their audacious, visually stunning clip for "New Century". Shot with a 360 degree camera, the dreamlike video had much to say about the immensity of the world, the ferocity of nature, and the intimacy of creative partnership. The video earned the group praise in Essentially Pop ("a name to watch out for"), Oh Es Tee ("a whirlwind of a video"), New Sick Music ("a video that makes you feel as though the world is endless, and, yes, tiny") and other online publications.
http://www.facebook.com/TinyFighterz
"Hollow Talk", the follow-up, seems certain to extend Tiny Fighter's reputation as dazzling music video stylists. This time around, they're working with fellow Stockholm artists Alexandra and Silja-Marie Kentsdottir ("New Century" was shot in Milwaukee), and the sisters behind the cameras do impart a Scandinavian chill to the clip. The video complements the two-part structure of the song. "Hollow Talk", which was recorded in Los Angeles with producer Daniel Reymer (Ben Frost, Foals, Girls Names), builds from a hushed, reverent, haunted first half to an end section that is full and near-orchestral in its intensity.  Like many of Tiny Fighter's songs, the new single begins with simple compositional ideas, and grows, organically, into something grand. These musicians are master handlers of the gear-shift; at any moment, their songs may take off and transform into something complex and otherworldly.
The Kentsdottirs, too, have, in a short time, developed a distinct and personal style.  They've worked on food videos, travel videos, commercials, YouTube vlogs, and done wonders with all of it – but they're best known in Stockholm as visionary music video directors. Swedish Idol Jens Hult, folk orchestra Brothers Among Wera, Scandinavian chart-topper Eric Saade: they've made clips for all of them. Many of their clips focus on the faces of their subjects – still, unblinking eyes, flushed cheeks, mouths in the act of singing – and the "Hollow Talk" video returns often to close-up shots of Therese Karlsson's lips.  When the camera pulls back, the Tiny Fighter front-woman is curiously still, restrained by the tight walls of a room illuminated only by shafts of light from a slatted window. But as the music accelerates, so does she: out the studio door, into the sun, down a long road to an underpass where she tumbles to the ground under the weight of her own emotion.