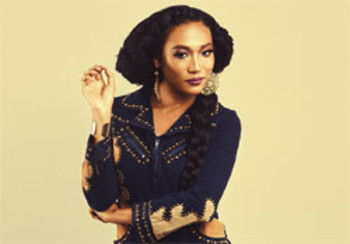 Imagine an artist talented enough to trade verses with Michael Jackson, endearing enough to share stages with John Legend, elemental enough to convince Prince to produce her debut album, competitive enough to clean up on The Voice, and photogenic enough to be a subject of a beloved movie. Sounds too good to be true, right?  It's not. It's Judith Hill we're talking about – a brilliant musician, songwriter, and singer who has spent her adult life among pop royalty. Some of the greatest musical artists of the last forty years have recognized Hill as one of their own. It's only a matter of time before the rest of the world follows suit.
Michael Jackson appreciated her enough to select her as his main duet partner for This Is It, and Prince – an astute judge of talent – oversaw the creation of Back In Time, her effortlessly funky and emotionally effulgent 2015 set, and continued to work with her up until the end of his life. Documentarian Morgan Neville told her tale, along with the stories of other support singers, in the Academy Award-winning 20 Feet From Stardom. Indeed, she's been inches away from the hottest spotlights in show business for years.
The scalding "The Pepper Club" ought to close the gap further. This is a fierce slice of funk-pop – mesmerizing enough to be a lost sixties classic, but sufficiently modern to climb the charts in 2018. The track showcases everything that recommended Judith Hill to her famous mentors: her electrifying delivery, her impeccable sense of rhythm, her inimitable voice, and the playfulness of her pen, too. She's paired her track with a clip that underscores its sense of fun and its compulsive danceability – a four-minute shindig you won't want to leave.