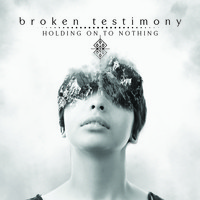 With "Holding On To Nothing" Broken Testimony goes for a wild, feral take on alternative rock. Reminiscent of Korn and Alice in Chains, the sound is shrouded in darkness. The riffs have a heaviness to them while rhythms go for a force of nature quality to them. Determination rests at the very core of it all with multiple layers intermingling in a kaleidoscopic fashion. Over the course of the album a narrative emerges one that feels so visceral and full of an unbridled chaos.
After the atmospheric opener "We Never Learned From Our Mistakes" things begin in earnest with "Control". Propelled forward by a righteous anger the song proves to be one of the highlights of the album. Things pull back a little bit on the expansive cinematic flourishes of "One Day" where Broken Testimony goes for a symphonic take. Much more western in temperament is the balance between beauty and ugliness with "Fade Away". Drums plays a pivotal role in the martial approach of "Blessing" where things work their way into a frenzied rush as Broken Testimony even incorporate a warped sensibility into the mix. Not a moment is wasted with the potent onslaught of "Medusa". Revealing a softer style is easily the best track on the album, the surreal "Unknown". Careening uncontrollably "Vitality" feels aptly named while it burns brightly. Bringing the album to a soothing close is the ambient realm of "But They Just Stain Who We Are In".
http://www.brokentestimony.com/
"Holding On To Nothing" shows off the undeniable chops of Broken Testimony as they create beauty out of jagged edges.
By Beach Sloth