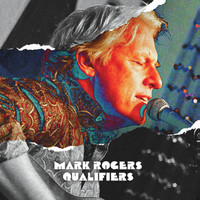 Mark Rogers delivers a heartfelt slice of Americana with "Qualifiers". Done with the utmost of care, Mark Rogers proves to be an exceptional storyteller. Fitting into the singer-songwriter tradition with such ease, the whole of the collection has a laid-back, mellowed atmosphere. Jazz, folk, country, rock, all with a unique western twang merge together into a vivid stream of color. By far the true soul of the collection comes from Mark Rogers' clever lyricism where he focuses upon the ups and downs of relationships, the difficulties of navigating one's own emotions, and figuring out where to go to discover one's own inner beauty.
https://markrogers1.bandcamp.com/album/qualifiers
A rollicking introduction lends "No Bigger Fool" a distinct, wild sort of energy. Opening the collection up, "No Bigger Fool" has almost a giddy temperament. Easily the highlight of the collection comes with the cinematic flourish of the title track "Qualifiers". Carefully unfolding, the piece simply stuns. Quite lush and beautiful, "Imagining" taps into a bossa nova spirit. Guitar work has a delicate sensibility to it, while the piano nicely skirts about right on the edge of it all. Mark Rogers neatly blends the blues and bossa nova together into a piece that feels so timeless. The rhythms of "You Can Lead Me On" propels the entirety of the piece forward with a loose quality. Neatly bringing everything to a satisfying close is the mournful and respectful "The World Changed Forever".
https://store.cdbaby.com/Artist/MarkRogers1
With such a gorgeous mixture of styles and clever arrangements, Mark Rogers creates a living breathing sound with "Qualifiers".
By Beach Sloth