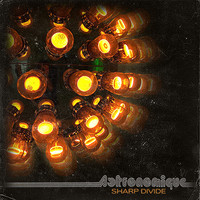 Astronomique is a new band based out of Minneapolis that we've been keeping an eye on for a while now. They are about to release a new LP called Sharp Divide and have released another single called "Losing our Control" from the upcoming LP. This band sticks to their recognised genre of indie rock which they do so well.
The first thing you notice from listening to "Losing Our Control" is the happy vibe that the song gets. The indie rock roots are so easy to understand. The song writing skills of the band is also quite easy to see in the way the lyrics take you on a musical journey. "Losing Our Control talks about how two sexual partners are undergoing changes in their relationship. From being just about the physical feelings, one of them is now lost in the thoughts of the other. For such a short song under 4 minutes long, being able to put in a story that is easily understood and recognizable is a testament to the ability of Astronomique to write songs that are catchy and easy to adopt. It's not so long a song but you can get into the vibe early and enjoy the groove with the message and everything else going on.
The masterful production behind "Losing Our Control" is also impressive. The lead vocals of the Minneapolis-based band are on point and adds a stunning melody to the song. Even if you're not even a fan of Astronomique, it is not hard to soon accept that they have a unique blend of sound which they are able to express in a fantastic way. Every element of the song is well done. From the electro instruments to the keyboards, to the guitars, these guys are for real and deliver a blend of music that takes you into a new world and "Losing Our Control" comes off as both well produced for radio and a song that will feel right at home at any major stage.
Kudos must go once again to the lead singer of the band Logan Andra Fongemie for bringing in a voice that is distinctive enough to create an unforgettable music experience that does not distract from the other elements of the song. The backup singers also do a great job of providing a depth that is beautiful to listen to. The amount of energy that you also get from the song is just right, the pulse is great and just allows you to bounce along to the beats.
You rarely find a band that can create a song that embodies both emotions, music and elegant delivery seamlessly. At the end of the day, you'll find yourself listening to "Losing Our Control" many times and dreaming about the incoming album. If this single is anything to go by, the album is sure going to be one to look out for.
http://www.astronomiquemusic.com/
By Ava Jaing