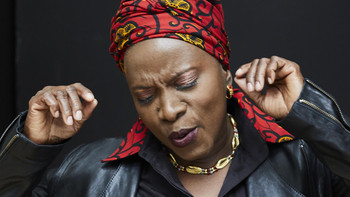 Music is a force that is unlike anything mankind has seen. It can unite countless different groups of people, regardless of background, race, or gender. It has the power to inspire and translate messages, and it can change the world. Not any artist is capable of achieving that; it takes someone who shows no fear, who is able to push the boundaries, but also someone whose goal is to promote positivity. Angélique Kidjo is that artist.
Kidjo is no stranger to the spotlight of international stardom. Since 1982, the anthemic singer-songwriter has been trekking all over the globe to get Afro-pop music the mainstream recognition it deserves. Kidjo's efforts have resulted in resounding success with her devout fans declaring her "the undisputed queen of African music." Hailing from the West African nation of Benin, the three-time Grammy Winner has accumulated an impressive resume throughout her illustrious career, working with the likes of Ziggy Marley, Alicia Keys, and the Dave Matthews Band. As if that wasn't enough, Kidjo was the recipient of the prestigious 2015 Crystal Award given by the World Economic Forum, as well as the 2016 Amnesty International Ambassador of Conscience Award, and numerous awards that would take hours to discuss. Kidjo's thirty-six-year career has been wildly successful mainly because of her dedication and hard work she has to her profession. Her work in music and entertainment as well as outside of it, is the reason she is one of the most influential women across the globe.
An icon of African music, Kidjo has created a song-for-song remake of Talking Heads' album Remain In Light. The album has held a special place in heart since 1983, when she first heard it after fleeing communist Benin for Paris. On discovering Light, she tells Los Angeles Times, "I went to school and I said, 'Do you guys know this song?' and they said, 'Yeah, of course — it's a huge hit,'…. I said, 'From Africans?' 'No, an American white band. Rock and roll.' I said, 'That's not rock and roll — that's African music.'" She was particularly drawn to "Once In A Lifetime", a track which reflected Talking Heads' influence by Nigerian Afrobeat pioneer Fela Kuti.
Produced by Jeff Bhasker (Kanye West, Bruno Mars, Fun., Harry Styles), Kidjo's Remain In Light features appearances by Ezra Koenig of Vampire Weekend, Blood Orange, Afrobeat legend Tony Allen, Antibalas Horns, and Kidjo's longtime collaborators Dominic James and Magatte Sow (percussionist for the 'Black Panther' film score). Her version of the track "Once In A Lifetime" is a reminder as to why she has had a more than successful career that musicians can only dream of having. The free-spirited video starts out with three office workers in a break room totally immersed in their electronic devices. The whole scene is very dull and boring until the exceptional Angélique Kidjo magically pops onto their screens and starts off her cover of the Talking Heads smash. In a matter of seconds, all three of the office employees are wildly dancing without a care in the world and can't resist the African rhythms of the song. The infectious and upbeat vibe this rendition brings to the table furthermore proves the power that Kidjo has upon her listeners.
To have the power to reach and inspire all walks of life, an artist needs to be daring, confident, and endorse a respectable message; this is nothing out of the ordinary for Angélique Kidjo. Her entire career has been built on wanting to make a difference in not only her community, but the world beyond. With all of the success she has had, Kidjo still shapes the world and motivates her listeners to be the best they can be. Music is a powerful tool and Kidjo uses it well.