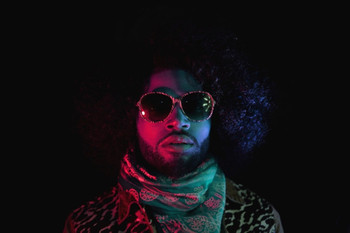 A powerful track that questions how humans deal with love and loneliness, 'Ghost' showcases Just Loud's striking vocals and fearless originality – immaculately blending pop and modern R&B with in-your-face 80's rock spirit. The video, made in collaboration with artist Aleia Murawski (who was featured in Petra Collins' In Search of Us show last year at NYC's MoMa), places Just Loud's sense of artistic grandeur and enigmatic presence front and center.
"The first line is 'I talk too much or not at all,' and that's me, 100%", explains Just Loud. "I'm very shy and outspoken — a full Gemini — and that balance is hard when it comes to being in a relationship with someone. Can you handle all of me? Would you go ghost on me once you found out who I am?"
Just Loud will release his 4-track debut EP entitled Episode 1 on June 15th via Five Seven Music, produced by Dave "Sluggo" Katz (Neon Trees, Katy Perry). With an impressive range and sense of introspection, Episode 1 is ultimately a document of Just Loud making personal discoveries in real time — expressing himself, his pain and glories, through his compelling and impactful art.
(Photo credit: Erez Avissar)