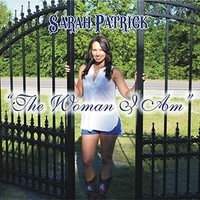 The talented women of country music have always provided the crucial backbone for the genre since its very inception. Despite being heavily associated with masculine themes in western culture, the reality is that country music is one of the most gender diverse genres in pop, partly because of the fact the biggest thematic elements in its stylization – bucolic reflections and a lay analysis of love – are completely genderless and often more deeply explored with given a variety of interpreters. All of that said, to be a female country singer is to be a part of one of the most competitive fields in all of the music industry.
Kentucky's own Sarah Patrick, though, is making herself known as a cut above the rest with her brand new album The Woman I Am, out this summer everywhere country albums are sold. The young, incredibly well versed Patrick has been garnering a lot of attention and buzz lately in Nashville and abroad as her smooth sounds and pristine vocals have been making a big echo through the southern scene that she seeks to one day conquer. Discovered by the legendary David Frizzell, the eponymous first single from her debut album has already hit the radio airwaves and making itself quite comfortable in regular rotation, and if this first record for Nashville America Records pans out as successfully as planned, we might just be hearing a lot more from this amazing young woman in the near future.
https://www.facebook.com/Sarahpatrickmusic/
Nashville is hardly the place that it once was a half century ago when the music business was making the southern city the most electrified outpost below the Mason-Dixon line. With the advent of social networking and the digitalization of music in the last couple of decades, the way things get done in the Volunteer State has changed primarily on the discovery and signing front; where once there were legions of scouts wandering through bars and small venue clubs from Denver to Atlanta looking for pastoral singer/songwriters who could make a home for themselves among the country/western crowd in Nashville, now instead there are IT technicians scanning the internet for singers that sound similar to the ones already topping the charts. You could say that Sarah Patrick is accessible in either era, and you'd be right, but there's something a little more special about her than that. Despite the fact that The Woman I Am is very much steeped in what you'd expect to hear in a debut country record (love songs littered with broken hearts, redneck pride and humble nods towards God's grace in times of strife), there's a lot of modern little gems to be found in this full-length LP like the title song, "That's The Way Love Goes," and the emotional "I Won't Be Your Trophy," all instant classics that I can picture being around even 10 years from now.
The main thing that I would like to see Sarah Patrick improve on is the structure of her songwriting. She shows immense depth on The Woman I Am that is never fully realized in the short-form style of tracks that are presented here, and personally it would be nice to hear what she sounds like totally unrestrained or limited by traditional studio practices. Hopefully we'll get to hear more of that in her future works, because there is absolutely too much talent to go to waste in this intriguing new singer/songwriter.
AMAZON: https://www.amazon.com/Woman-I-Am-Sarah-Patrick/dp/B07BBWHV3V
Sherry McCrae